Wozniacki claims second China Open title
2018-10-07 22:18:28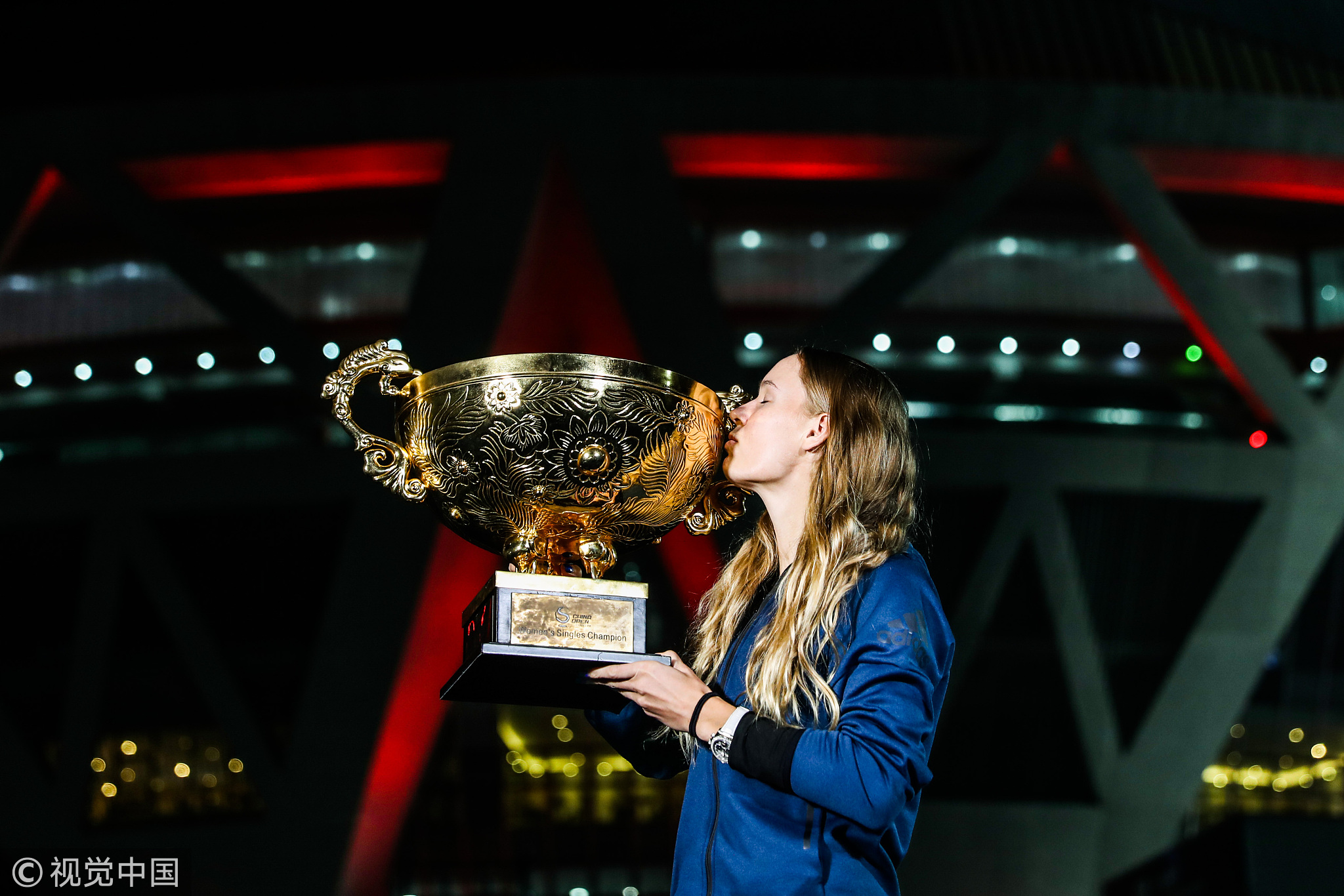 Caroline Wozniacki is a China Open champion once again.
The Dane defeated Anastasija Sevastova 6-3 6-3 for her second tournament title, eight years after the 2010 championship which secured her the world No.1 ranking for the first time.
Although Wozniacki held an undefeated 4-0 record over Sevastova before the match, the world No.20-ranked Latviaan had recently made an impressive semifinal run at this year's US Open and defeated the New York champion, Naomi Osaka, this week.
This event also marked the first time Wozniacki had made it beyond the third round of any tournament since late June. During the hard-court season, she struggled with injury and a disappointing second-round exit at the US Open.
"I didn't feel great going into the tournament, to be honest," Wozniacki said. "But I think after kind of the second match I started feeling like I was hitting the ball well and I could see the ball really well. By the third match, I thought I played really great tennis. Then I started believing that, you know, I'm really hitting my form, playing myself into shape."
On the hunt for her 30th career singles title, Wozniacki struck only 21 unforced errors for the match compared to the Latvian's 35.
Both players started the first set strong, holding their first service games at love. A blistering cross-court return from Wozniacki at 2-all earned her two break points, and an over-hit forehand from Sevastova gave her the break.
Sevastova could not find her form afterward, missing an overhead and striking another unforced error to send Wozniacki to 5-2.
A searing overhead from the No.2 seed secured her the first set in 33 minutes.
The Australian Open champion sprung to a 4-1 lead in the second, as Sevastova struggled to convert break points.
The Latvian managed to climb back and tighten Wozniacki's lead to one game, but three more unconverted break points by Sevastova sent the 2010 champion one game away from her second title.
After an hour and 27 minutes, Wozniacki bolted both arms in the air in triumph as Sevastova's forehand sailed long on championship point.
"I think she played solid in the beginning. I had chances in the second set. I think the second set should have been closer. Maybe I even had chances to win it," Sevastova said. "But she played solid throughout. She didn't give me any presents. It was tough."
In only a few weeks, Wozniacki will defend her year-end title in Singapore and, come January, her maiden Grand Slam title at the Australian Open.
Wozniacki acknowledged the competition will be tough and she will have to play extremely well, but the world No.2 is finally playing the way she wants to.
And now, she has confidence on her side.
"You know, as a little kid, I had a dream of becoming a professional tennis player, becoming No.1 in the world," Wozniacki said. "Then after No.1 in the world, I wanted to win a Slam, then I wanted to lift trophies. Having done everything, all of that, it's pretty amazing.
"I think I had a dream of that, but I don't know how realistic I really believed that was going to be. I have great family and friends that supported me all the way along the way. Even when I sometimes doubted it, they always believed in me."
By Noah Higgins-Dunn