The stars speak: Best of China Open 2018 quotes
2018-10-07 23:17:22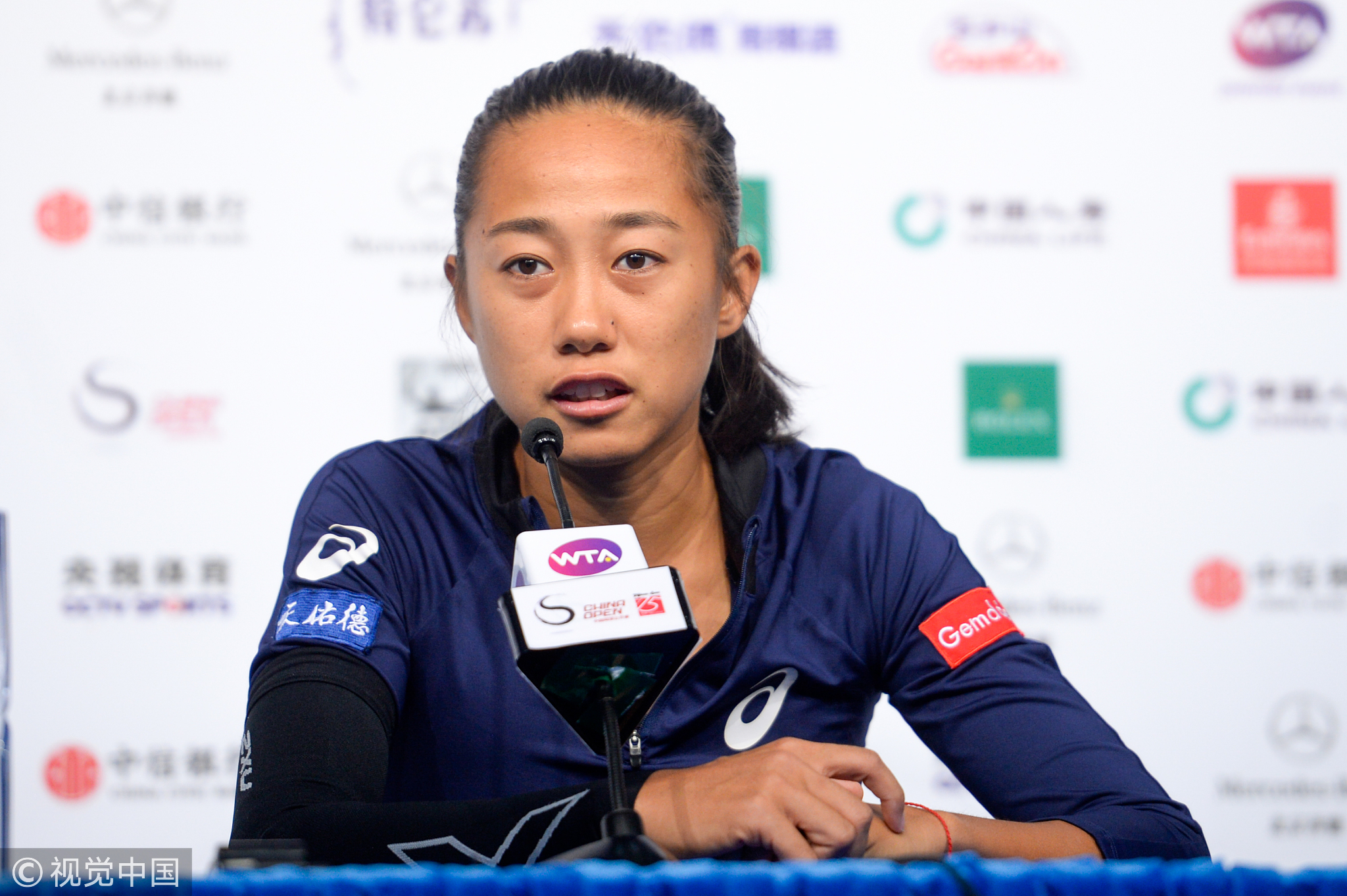 Among the players' duties at the China Open each year is fronting the media to discuss their performances. Whether they win or lose, many of them speak candidly, humorously and memorably. Here is a selection of the best quotes from this year's event in Beijing …
"I just want to say this is all about womans. Five minutes we're happy, another five minutes we want to kill everyone. This what happened today."
- Aryna Sabalenka, on managing her emotions during her third-round win over defending champion Caroline Garcia.
"A big thank you to everyone, to all the fans who have been supporting me all the way along. My friends from childhood, they have come here from different places. They sent me text messages in the morning, told me they were on the road from Tianjin. They came here to cheer for me."
- Zhang Shuai, who advanced to the quarterfinals of the China Open
"I hope more Chinese kids can pick up the racquet because they are inspired by Chinese players. One day they can dream of competing in the China Open, be a player on their home turf. I hope they can be the best players of China. Many ball kids, I know them personally. Some of those ball kids actually are children of the last generation players. They send their kids here to be ball kids. They are cheering for me. They were ball kids before, now they're growing up, becoming junior players. When I see them, I see the hope of our country."
- Zhang Shuai, discussing the growth of tennis in China
"Okay, this is going to sound really weird. But you know how in New York it's a really long car ride? So in the car, I was listening to half Nicki Minaj Queen and then half Eminem."
- Naomi Osaka, on what music she has been listening to prior to matches
"Okay, wait. What are the options again?"
- one pronounced like Naomi and the other (speaking in Chinese)
"That's kind of cool."
- Which one do you prefer?
"Wait. What does my name mean?
- it means 'beautiful'
"Ooh."
- Naomi Osaka, on deciding which way she prefers to be named in Chinese
"Have you ever eaten green tea ice cream (smiling)? This is a serious question. When you bite into it, it's, like, sweet but also very strong. Like, that's how that memory feels to me."
- Naomi Osaka, on her feeling after winning the US Open
"Uhm, I do (have holiday plans), but I wouldn't really tell you. It's not like you're my homeboy (smiling). I'm just going to go on vacation somewhere, but I don't know where yet. Just leave it at that."
- Sloane Stephens, talking about her off-season plans
"It was very kind for you, for the Chinese fans. I got many, many gifts, many presents that I will keep in my heart. I will take them to Argentina, for sure. I like to watch them, seeing Argentinian flags, Boca Junior flags. They are following me everywhere. They make me feel very special."
- Juan Martin del Potro, talking about his fans in Beijing
"She's not doing much, you know, playing. It's more about me. I miss or I make winners. I just had more mistakes than winners, that's it."
- Karolina Pliskova, after losing to Wang Qiang
"The dress that I was wearing at the players party, I think is really nice. Also when the saw the show of designer at the players party, I really liked his clothes. Then, yes, I got a dress as a gift. That was really nice of the designer."
- Jelena Ostapenko, a fan of Chinese culture, discusses the dress she wore to the tournament player party
"She said good job. I said I needed a hug. I said good luck with tomorrow."
- Wang Qiang, explaining what she and Caroline Wozniakci said to each other at net after their semifinal meeting at Diamond Court.
"It was a nice experience to meet someone taller than me (smiling)."
- Juan Martin del Potro on meeting Chinese basketball legend Yao Ming.
"That's how I just play. When I hit the shot, I make this sound. That's how I generate the big power, so..."
- Men's singles champion Nikoloz Basilashvili when asked why he gasps for air when he strikes the ball.
"Last time was different. I was 20 years old. I became No. 1 in the world here for the first time. They didn't have this stadium yet. It was the other stadium that I played on. A lot has happened since then. I think I just really appreciate still being here, playing well, being able to win these titles. It really means a lot to me."
- Women's singles champion Caroline Wozniacki on winning the title for a second time, eight years after her 2010 victory.