Daria Kasatkina advances after late-night victory over Shuai Peng
2019-09-29 01:33:54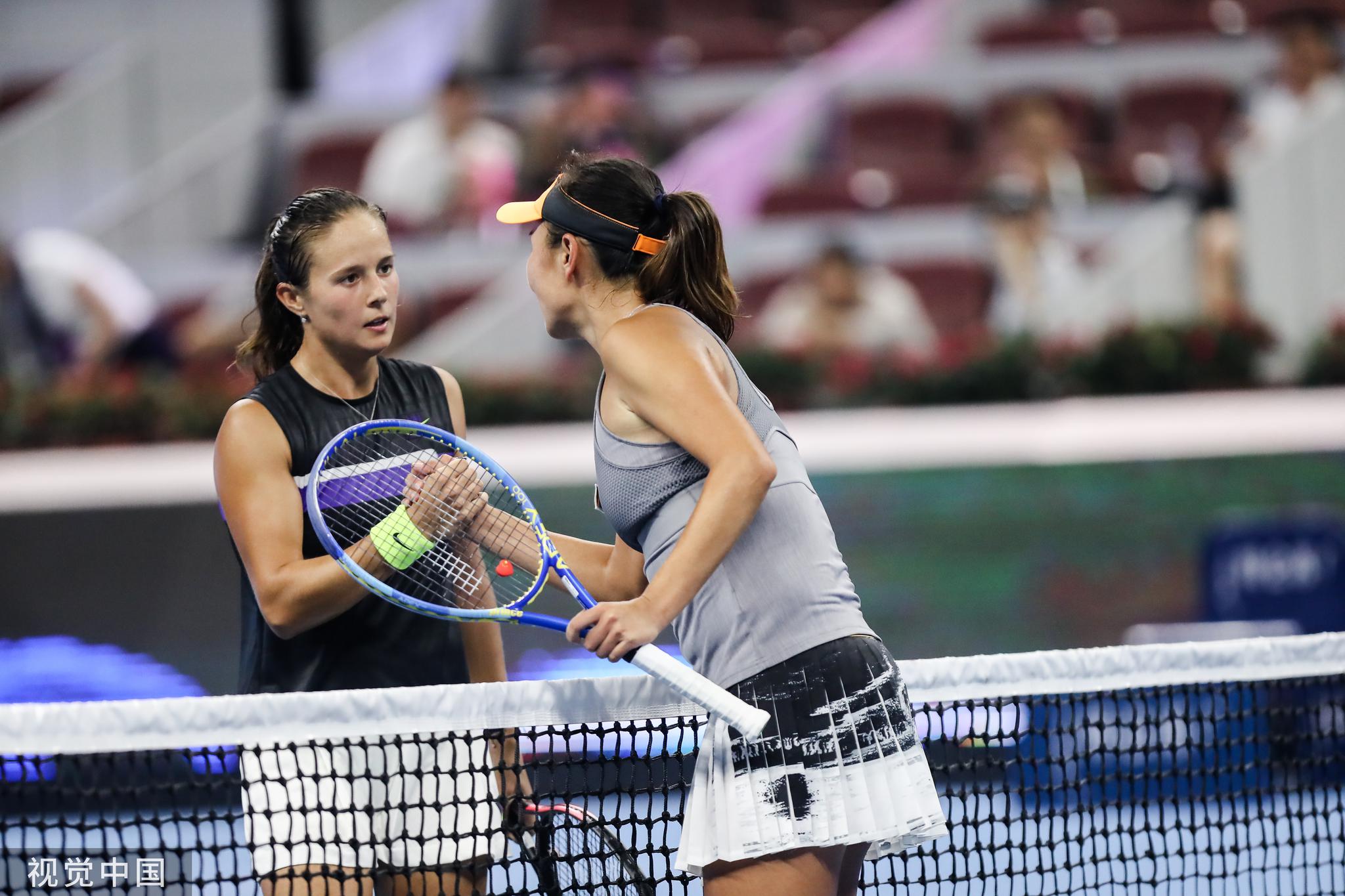 After a demanding match that ended Sunday morning after almost three hours, Daria Kasatkina advanced to the next round of the China Open with a 2-6, 6-4, 6-4 victory over 33-year-old Shuai Peng of China.
The match was close until the second half of the third set, when a right leg injury slowed Peng considerably. Kasatkina won three of the last four games after the injury, which especially limited Peng's forehand momentum, to take the match.
For most of the match, Peng was dominant at the baseline and the net, most effective when she could bring Kasatkina, 22, to the net.
The crowd chanted for Peng throughout the match, but especially so after the she was visibly hurt. After a long rally in the sixth game of the third set, Peng overhit a shot and immediately grasped her leg, which had been taped since the match began.
Peng hunched over her knee and talked with a trainer before resuming the set, which was tied 3-3.
She regained some momentum in the following four games, winning one and bringing three of four to deuce. But Kasatkina capitalized on Peng's limited mobility by moving the ball around the court and bringing her to net often.
The match started in Peng's favor, with two Kasatkina double faults in the first set leading to two breaks. She cruised to a quick 6-2 first set victory.
The second set was closer; the two were tied 4-4 before a momentum-shifting ninth game. After four deuces, Kasatkina broke Peng's serve to take the set lead, 5-4. The following game went to three deuces with both players hitting the ball past the baseline before Kasatkina won — taking a 6-4 second set victory with her.
Peng was most effective when she could bring Kasatkina to the net. Kasatkina, on the other hand, favored the corners, often opting for strong shots to the baseline that evaded her opponent. At the end of the match, though, Kasatkina was able to overpower Peng enough to give her the edge.
Kasatkina will play WTA No. 14-ranked Aryna Sabalenka of Belarus next.(By Hannah Hoffmeister)