Barty battles back in third set and tiebreak, defeats Kiki Bertens for a spot in Sunday's final
2019-10-05 19:29:21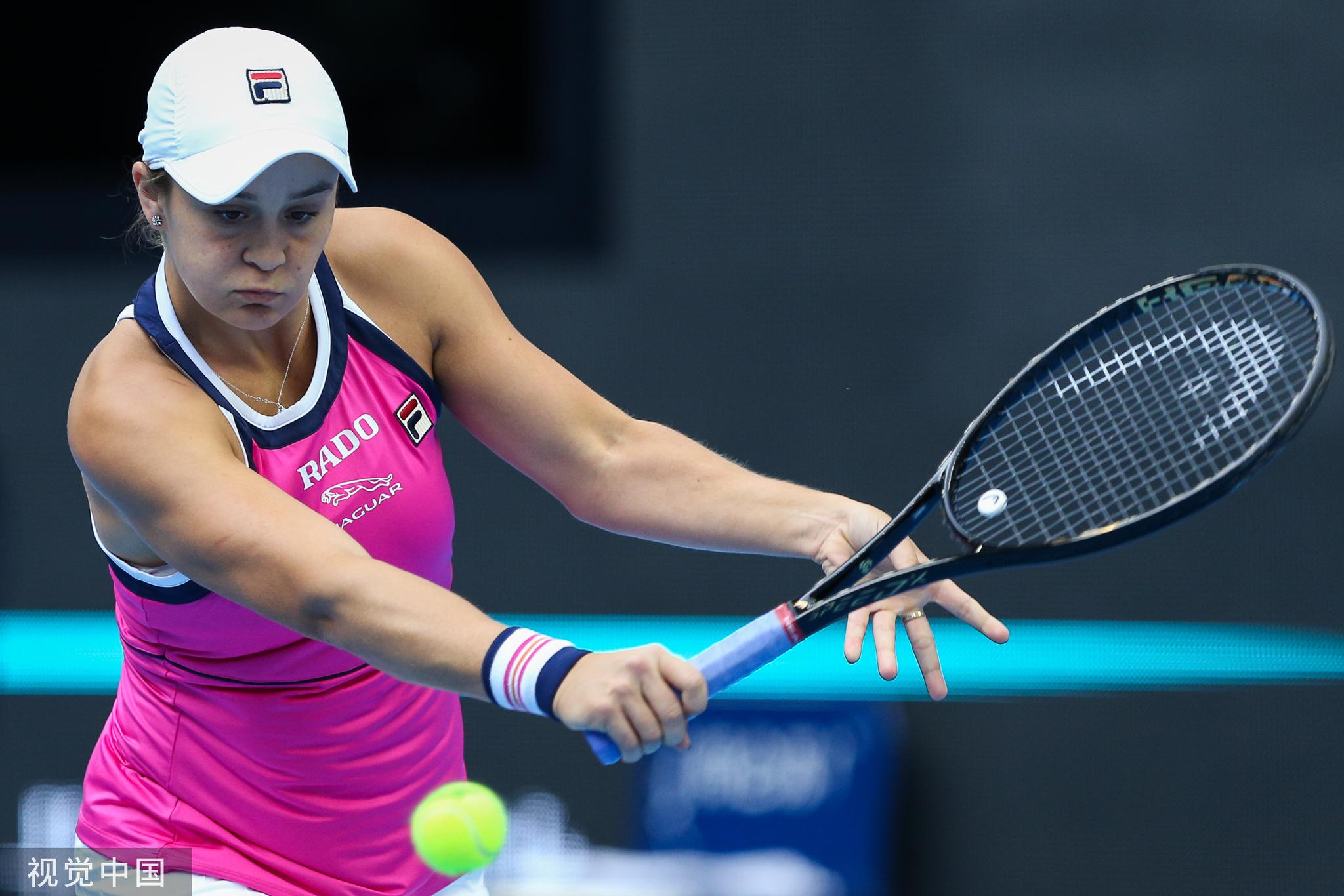 No. 1 seed Ashleigh Barty pulled off a last-minute comeback Saturday in a 6-3, 3-6, 7-6(7) thriller against No. 8 seed Kiki Bertens.
Barty will play either Naomi Osaka or Caroline Wozniacki in Sunday's China Open WTA final.
"I thought the quality was exceptional from both of us at times," Barty said. "Win or lose, you come off feeling pretty good about it."
Barty continued her winning streak against the Dutch player, now beating her five times straight.
Barty took an early 3-0 first set lead, quickly taking it 6-3. The second set flip-flopped in Bertens' favor — Bertens looked comfortable, smashing serves and winners while forcing errors from Barty. Bertens took the set 6-3.
"She had a few games that she had some more second serves, so I was trying to step in there a little bit, also on the first serve a little bit closer to the baseline," Bertens said of the second set. "I think that worked better than when I was standing too far back."
Bertens' momentum continued in the third set. She broke Barty's serve twice and had a 5-4 lead going into a service game, a clear opportunity to take the set and match.
But Barty fought through long rallies to bring it to deuce, breaking serve when Bertens hit a forehand slice into the net. The two held serve after that to force a tiebreak.
"I think particularly probably from middle of the first set right through until I probably broke early in the third, Kiki went into lockdown mode," Barty said. "She didn't give me very many cheapies as well. She does that extremely well."
Bertens looked poised to take the match after jumping out to a quick 3-0 tiebreak lead. But reminiscent of the third set, Barty battled back to bring it to a 7-7 tie before capitalizing on a Bertens forehand into the net.
The winning point came when Bertens hit a backhand ground stroke past the baseline.
"I mean, we both played a great tiebreak," Barty said. "Five-all point, the 6-5 point, we played some exceptional tennis. It could have gone either way."
Barty capitalized on forehand winners and drop shots that Bertens couldn't return. Barty also frequently relied on her backhand slice.
"In the backhand slice, it's tough. You think you can really do something with the ball, but you cannot really," Bertens said, acknowledging Barty is "much better" than she is on the backhand slice.
On Friday, Bertens took a medical timeout during her win over Elina Svitolina after she tweaked her right ankle. She said Saturday that it didn't bother her during the match against Barty.
"Of course, I felt it," Bertens said, "but it was not like I was restricted with running or anything."
Barty has faced both Osaka and Wosniacki before. Barty has never beaten Wozniacki in three previous matches. She has beaten Osaka twice and lost to her once, but the two haven't played since either won a Grand Slam.
"I think both of us are different players now," Barty said comparing herself to Osaka. "It's a bit of a clean slate, a fresh start for both of us."
As far as Wozniacki, Barty said she'd like another chance to "turn the tides on our last few results."
"I've been close before, but that's the challenge of playing one of the best we've seen in our women's game," she said.
(By Hannah Hoffmeister)