Tsitsipas edges out Zverev, will meet Thiem in final
2019-10-06 07:40:36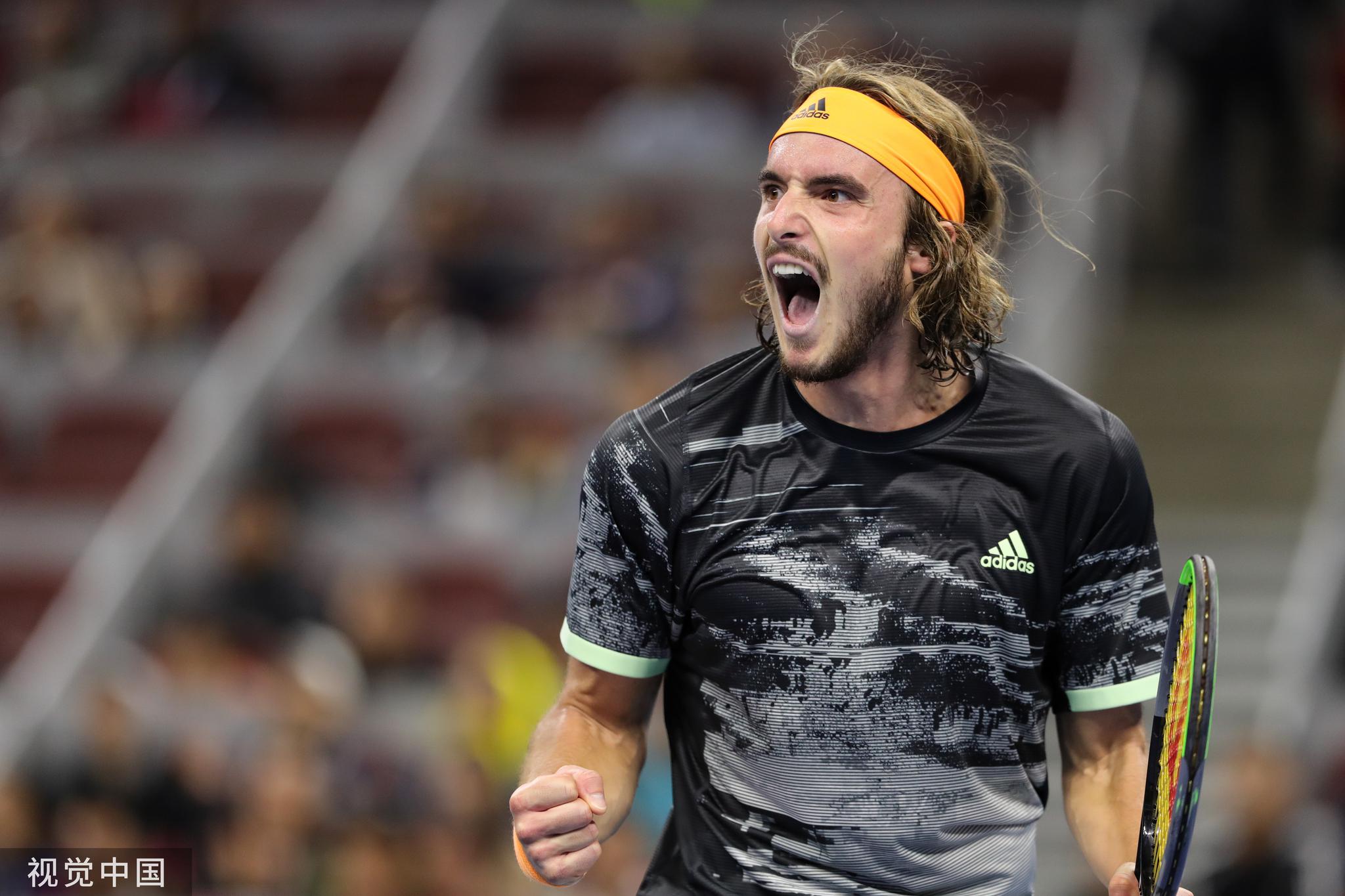 Stefanos Tsitsipas defeated Alexander Zverev 7-6(8) 6-4 in a drama-filled semifinal late Saturday night.
The win was Tsitsipas' third straight victory against the German and sets up a men's final between the Greek and Austrian Dominic Thiem, who defeated Karen Khachanov in the other semifinal.
"I didn't play phenomenal, but I played smart. Smart is more important than phenomenal," Tsitsipas said. "I did things right when I had to do them… I didn't go for crazy shots or crazy targets. I just mixed the game. I was hanging in there and trying to suffer, trying to give it my all on the court, to play another five hours. That was the mindset I was on."
Tsitsipas took a highly entertaining, back-and-forth first set in a tiebreak. Zverev seemed to have the momentum early on; the German broke Tsitsipas in the first game and was a point away from going up 3-0 before the Greek aced and went on to win the game, using his exceptional movement to prolong rallies.
While Zverev did a good job limiting mistakes and had his first serve going, Tsitsipas won the key points in the set. He took a vital sixth game to break Zverev after four deuces, prompting the German to destroy his racket.
In the tiebreak Zverev had Tsitsipas on the ropes down 6-3 after the German hit a nice forehand winner. However, as was the theme all set, Tsitsipas battled back, winning five straight points to take the set.
"[Down in the tiebreak my mindset was to] make every ball back," Tsitsipas said. "If the ball falls short, attack a bit more. Never let him feel comfortable with his shots, never feel like he can have options when playing. That worked at that given moment. I just suffered to win those points."
After Zverev took the first game of the second set, Tsitsipas won five sets straight to build a commanding lead. To his credit, Zverev didn't quit. The World No. 6 rallied back, fending off six match points, to bring the score back to 5-4. But the hole he dug for himself was too large, and Tsitsipas was able to close him out.
Tsitsipas was struggling heading into Beijing, having lost his last five tour-level matches. But the 21-year-old has looked rejuvenated at the China Open, setting up an intriguing final against Thiem. The two have played five times this year, with the Austrian slightly edging the Greek 3-2, including a 6-2 2-6 6-4 6-4 win at the French Open.
"Thiem will be playing with a lot of intensity," Tsitsipas said. "I've played him many times. I know his game consists of a lot of intensity, the power and the speed he puts in every single shot.
"He's in a good form. He's playing well. I just have to be serving well, playing well from behind, coming in. It's important for me to stay focused in the crucial moments, in the moments where things are going to be decided in a few points."
(By: Adam Reckamp)