Osaka achieves goal with China Open victory
2019-10-06 22:29:01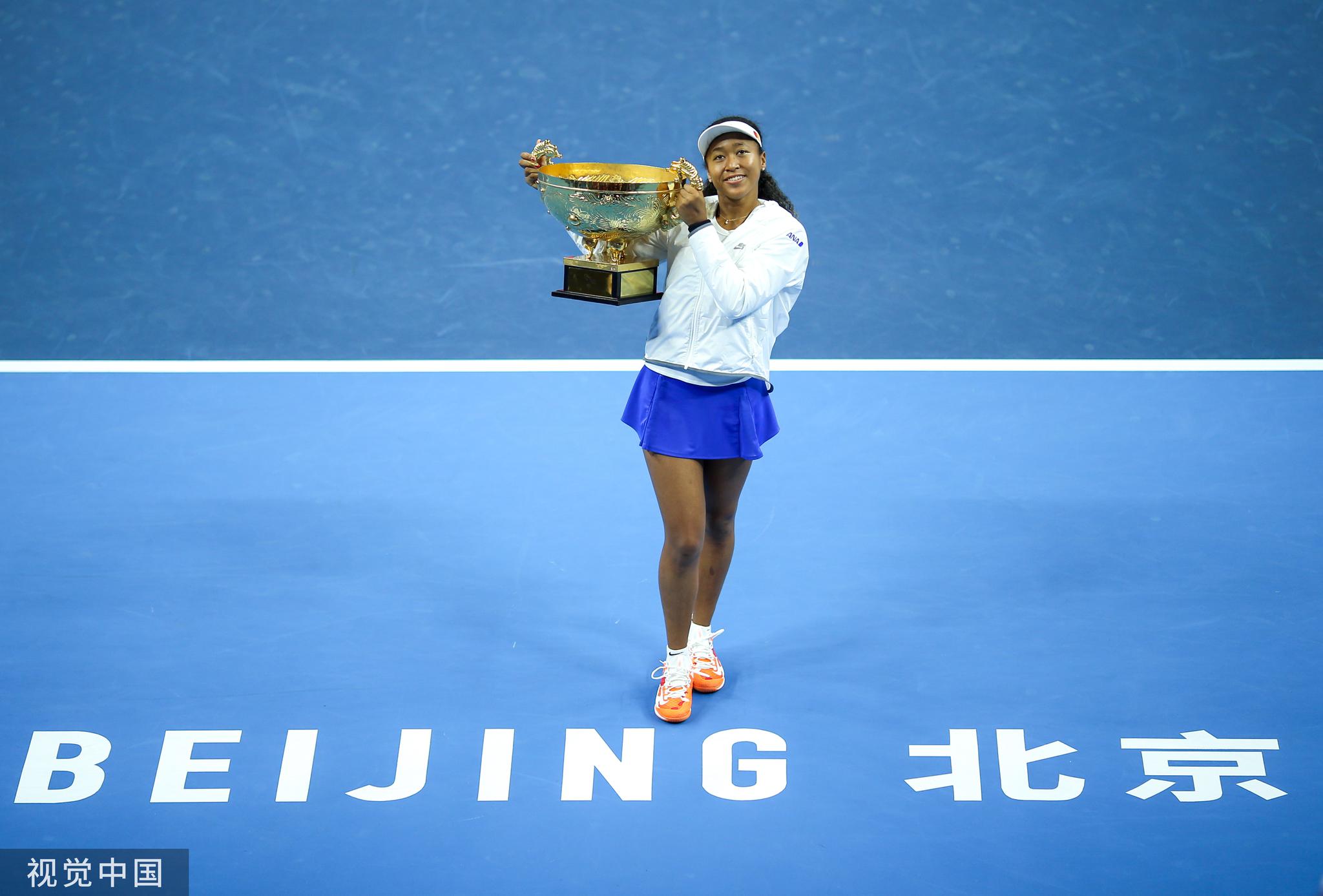 Naomi Osaka said that she wanted to win two tournaments after a summer slump, and on Sunday night at the China Open she completed that goal.
Last month, the Japanese-Haitian star won her first title since the Australian Open at the Toray Pan Pacific Open, defeating Anastasia Pavlyuchenkova 6-2, 6-3. On Sunday, Osaka won her second consecutive title after a comeback win against Ashleigh Barty in the final in Beijing.
The 21-year-old said that she meditated on winning after losing in the fourth round of the this year's US Open, where she was the defending champion.
"It just feels like I accomplished what I set out to do," Osaka said. "I didn't play those two tournaments for myself, I kind of played them for my team because the US Open wasn't that great, and I felt apologetic."
Before the Toray Pan Pacific Open, Osaka went almost eight months without featuring in a final, let alone winning a title. Now, she's on a 10-match winning streak and refuses to let the pressure from the outside world affect her game like she did after that Australian Open triumph, a result delivering her a second consecutive Grand Slam trophy.
Asked if she was concerned that pressure might return now that she has rediscovered good form, Osaka said: "I honestly don't care anymore. That's my mentality going into it."
Osaka made two coaching changes this year. First, she split with Sascha Bajin shortly after the Australian Open, then parted ways with Jermaine Jenkins following her disappointing US Open performance.
Her father and long-time coach Leonard Francois stepped into the breach in September and Osaka made instant improvements.
"The thing with my dad is he keeps it very simple. He knows my personality because, like, he's my dad. Most of the time he doesn't even really say anything. He just waits for me to figure it out," Osaka explained.
Though Osaka is on a good run, she said that having her father as her primary coach was a temporary arrangement.
"Deuces. It was good while it lasted," she laughed.
"He's always there, you know. But I don't think he can handle it. Like, not even just saying this, but he doesn't like watching my matches. I think it stresses him out because he, like, twitches every time I hit a ball.
"After US Open I asked him, Can you please come with me to Asia? He said he'll take the role very seriously, but I don't think it's a long-term thing."
Osaka will play in the WTA Finals in Shenzhen later this month.
(By Alyssa Jackson)