Playing together for the first time, Kenin and Mattek-Sands win women's doubles title
2019-10-06 17:11:49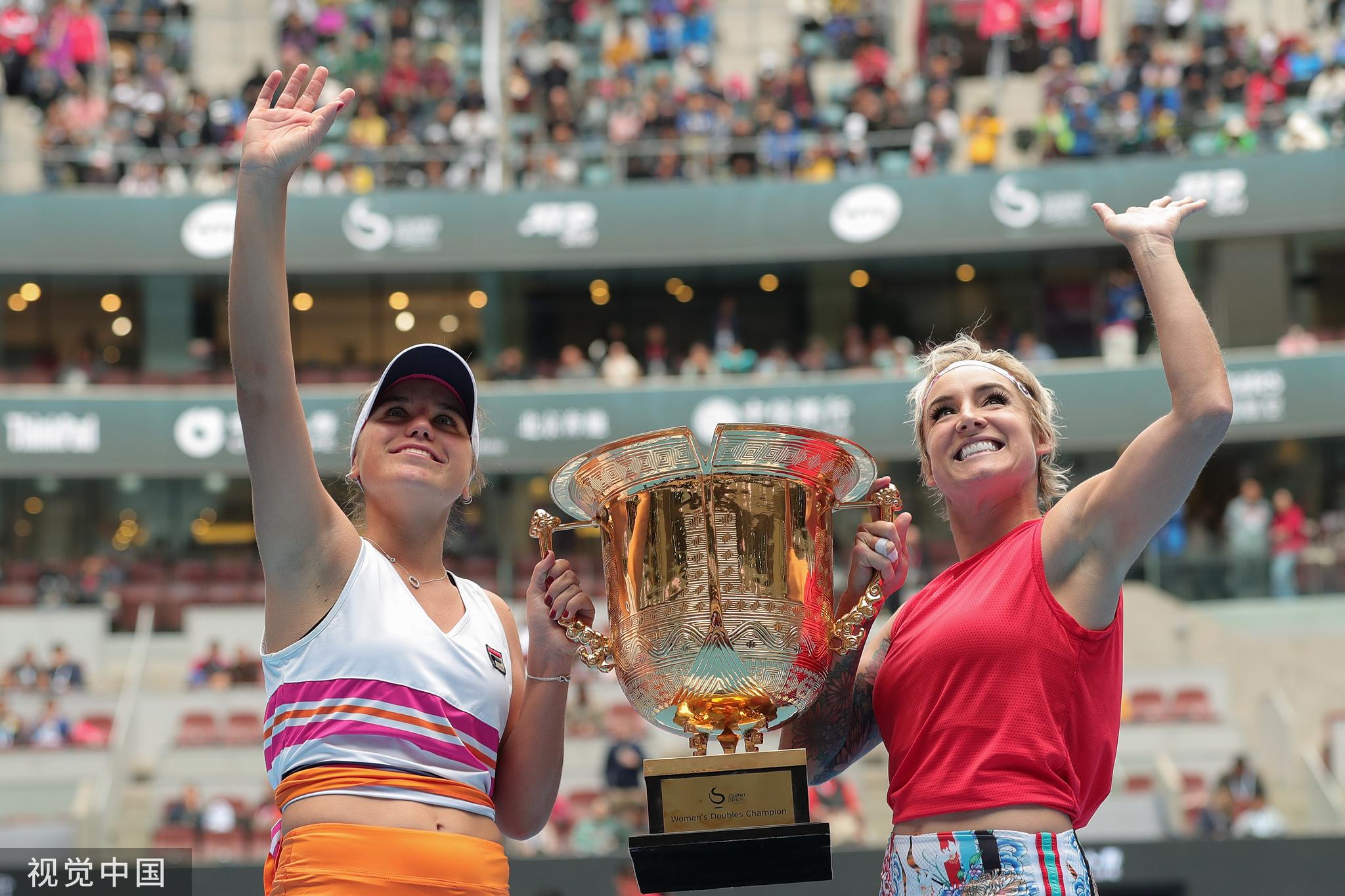 Americans Sofia Kenin and Bethanie Mattek-Sands became the 2019 China Open women's doubles champions on Sunday, defeating Jelena Ostapenko and Dayana Yastremska 6-3 6(5)-7 [10-7] in a scrappy final.
The China Open was the first tournament both teams had played together, but neither seemed to take much time to build chemistry, resulting in a close final featuring long rallies and two tiebreaks.
Kenin and Mattek-Sands entered the tournament as wild cards and did not even have practice time before the tournament.
"There's very few people that match my energy on court," Mattek-Sands said. "This kid is one of them. We had some awesome high fives, c'mons and pump-ups. That's really what got us through this tournament — the energy."
The American duo took the first set, thanks to superior net play. Yastremska and Ostapenko found more success when they were able to keep rallies at the baseline, ripping groundstrokes past Mattek-Sands at the net. But Kenin and Mattek-Sands were able to dictate the pace of the first set, keeping the points shorter and closer to net.
Their Latvian and Ukrainian opponents battled back to take the second set in a tiebreak. They jumped out to a 3-0 game lead behind their improved serves before the Americans broke them twice, winning four games straight to get back into the set.
Ostapenko really made her mark in the second set, increasing her aggressiveness at the net and hitting multiple big smashes to force a match tiebreak.
Ostapenko and Yastremska began lobbing Mattek-Sands as the match wore on, trying to keep the ball away from the dominant net presence and forcing Kenin to beat them from the baseline.
"The other team today, they played well, made some great adjustments after the first set," Mattek-Sands said. "They started lobbing a little bit. If I was close to the net, they were trying to keep it away from me. This one (Kenin) played some great defense. I think it was a good balance when we were at net or back, still playing aggressive."
After Ostapenko and Yastremska took the second set tiebreak, it seemed as if momentum had shifted their way when they took the first two points of the tiebreak. But the Americans stayed calm, winning five straight points to force match point, ultimately winning the title on the second attempt.
"I think it was just the energy (that allowed us to comeback)," Kenin said. "We knew it's doubles, anything can change. I believed, and Bethanie believed."
The two immediately faced questions about their future playing together and seemed enthusiastic about the idea.
"We'd love to play in the future," Kenin said. "Of course if we get into Tokyo, who isn't going to play? I'm definitely in if you're in."
"Okay," Mattek-Sands responded, smiling.
(By: Adam Reckamp)