Thiem captures first China Open title in comeback against Tsitsipas
2019-10-07 07:18:06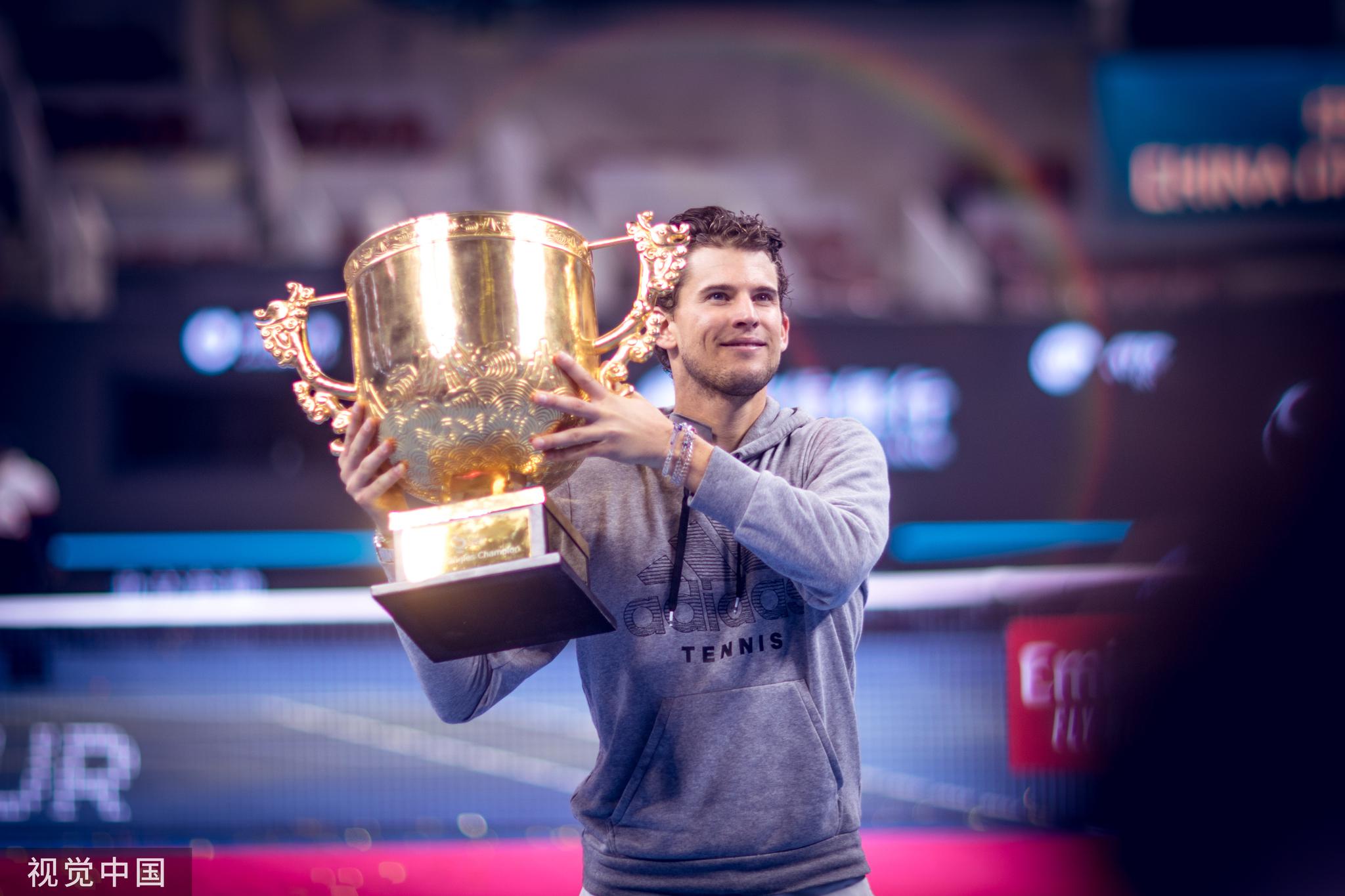 No.1 seed Dominic Thiem fought past Stefanos Tsitsipas 3-6, 6-4, 6-1 on Sunday night in Beijing to earn his first China Open trophy.
The Austrian said this title is one of the biggest of his career.
"Game style wise and also how I came back, it's definitely one of my biggest titles because the tournament is so strong, the draw was so strong," said Thiem, who beat Andy Murray, Karen Khachanov and Tsitsipas in his last three matches.
"Makes me very happy that I stand as the champion at the end of the week."
The first set saw long rallies filled with one-handed backhands, superb defense and big-hitting from behind the baseline.
Tsitsipas landed a stellar 77% of his first serves in play, this high first-serve percentage allowing him to control points during his service games and preventing Thiem from hitting aggressive second-serve returns.
Tsitsipas grabbed the decisive break in the first set, pounding deep returns to earn a 5-3 lead. The Greek held serve the next game, winning the set with a forehand winner.
Tsitsipas gained control over the match in the second set when he snatched an early break after a winner off a Thiem overhead, which came after Thiem gave Tsitsipas the break point chance with a missed smash.
But the Austrian took the momentum back, breaking Tsitsipas' serve the next game to even the set at 2-2 and then taking advantage of several errors from his opponent, breaking back after a Tsitsipas' double fault.
Tsitsipas said a missed break point opportunity at 4-4 in the second set was a mental obstacle the rest of the match.
"[I was] literally one point of getting a break, serving for the championship," he said. "[It] kind of like ruined me after that point."
Up 5-4 in the set, Thiem earned three set points on Tsitsipas' serve thanks to succession of groundstroke winners; Tsitsipas fought off two set points, but Thiem took the set after striking a deep groundstroke Tsitsipas wasn't able to handle.
Thiem said saving a breakpoint and breaking Tsitsipas' serve the next game to win the set was a major turning point. "I think that was the moment of the match and the momentum switched," he said.
Thiem controlled the third set, breaking Tsitsipas' serve twice.
As the match went on, the Austrian's returns became deeper and stronger, while Tsitsipas' first-serve percentage had dropped markedly, allowing the Austrian to attack.
Thiem also said his returns improved because he adjusted his service return position after the first set.
"When I returned closer to the baseline, I didn't hit the perfect return, he was straightaway coming in and straightaway putting pressure," he said.
"That's why I tried to return little bit more far behind the baseline to give myself more time, to come more neutral into the rallies."
(By DC Benincasa)