Nadal Clinches Historic 13th Roland Garros Title, Ties Grand Slams Record
2020-10-12 16:42:51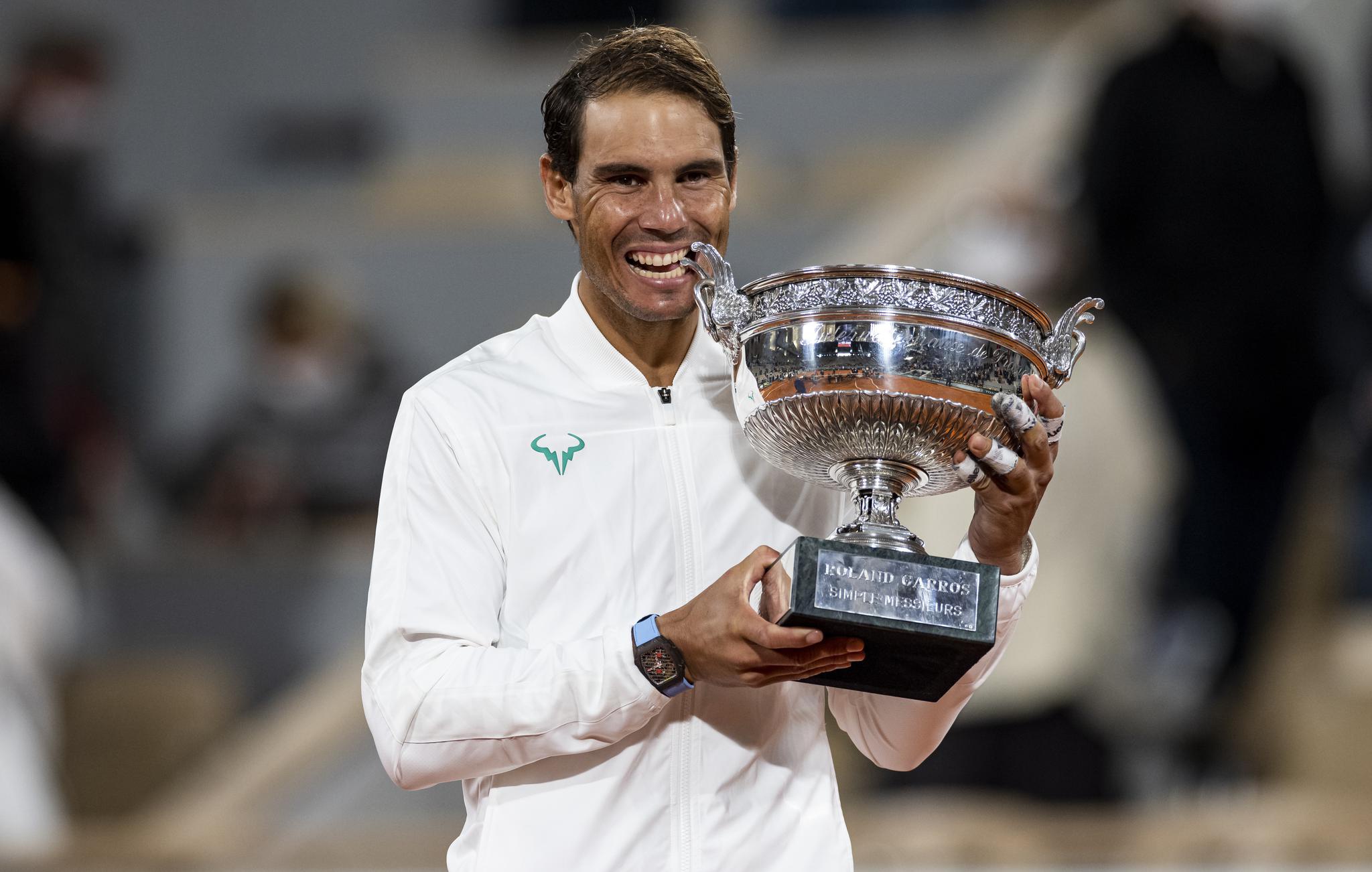 Rafael Nadal produced a tactical masterclass against World No. 1 Novak Djokovic on Sunday to clinch a historic 13th Roland Garros crown, which also marked his 100th match win at the clay-court major championship.
The Spanish superstar barely put a foot wrong in a 6-0, 6-2, 7-5 victory over 2016 champion Djokovic to capture a record-equalling 20th major singles trophy and draw level with all-time leader Roger Federer. The final was played under a closed roof on Court Philippe-Chatrier.
"I played at an amazing level of tennis," said Nadal, after he clinched the 60th clay-court title and the 86th trophy of his career. "For two-sets-and-a-half sets I played great. I can't say another thing. It's impossible to have this score against him without playing great. I played a very good final. I played at my highest level when I needed to play at my highest level, so [it's] something that I am very proud of.
"Winning here means everything to me. It's not the moment to think about the 20th [Grand Slam] title to equal Roger. For me, today it's about the Roland Garros victory. It means everything to me. Most of the most important moments of my career have been here. I love this city and this court."
In the cold October conditions, a far cry from the warmth of early June when the Roland Garros final is traditionally played, 1,000 spectators, including Nadal's team and family members, wore face masks and wrapped up to brave the elements. The only thing that was normal was Nadal, who extended his legacy at the tournament with victory over Djokovic in two hours and 41 minutes.
Nadal dropped to his knees in celebration after striking an ace for victory in his ninth Grand Slam championship final against Djokovic. It was his 27th win over the Serbian and Nadal's first since May 2019 in the Internazionali BNL d'Italia final in Rome. The 34-year-old, who improves to a 22-4 record on the 2020 season, is now just one match win away from becoming the fourth player to record 1,000 career victories. Only Jimmy Connors (1,274), Federer (1,242) and Ivan Lendl (1,068) have won more tour-level matches.
"In Australia, [Novak] killed me, but today was for me," said Nadal, who had lost to Djokovic 6-3, 6-2, 6-3 in the 2019 Australian Open final. "That's part of the game. After all the things I have been through in my career in terms of injuries, without a great team and family around me, everything would be impossible."
At the end of his on-court interview, Nadal also provided a message of support to those who are suffering as a result of the global COVID-19 pandemic. "I want to send a message to everyone around the world. We are facing one of the worst moments we can remember, in our fight against this virus. [We] just need to keep going, stay positive and we'll get through this together."
Djokovic, who committed 52 unforced errors in his attempt to clinch an 18th major crown, is now 37-2 on the season, which includes four titles at the Australian Open (d. Thiem), the Dubai Duty Free Tennis Championships (d. Tsitsipas), the Western & Southern Open held in New York (d. Raonic) and Rome (d. Schwartzman).
"Congratulations to Rafa," said Djokovic, in an on-court interview. "What you are doing on this court is unbelievable. Not just this court, but throughout your entire career you have been a great champion. You have shown why you are 'King of Clay'. It was a very tough match for me today. I was not so pleased with the way I played, but also I was definitely outplayed by a better player today."
Afterwards, in his post-final press conference, Djokovic added, "He was not missing at all and getting every ball back, just playing tactically great. I felt well throughout the entire tournament. I thought I was in great form. Certainly, I could have played better, especially in the first two sets. But he did surprise me with the way he was playing, the quality of tennis he was producing, the level. He's phenomenal. He played a perfect match, especially in the first two sets.
"In the third set, I managed to come back. I kind of found my groove on the court. Then there were a couple of close games. I had my chances, didn't use them. He closed out the match. That's it. He was the far better player on the court today and absolutely deserved to win."
Nadal combatted Djokovic's ploy to drop shot and force the Spaniard into the net, with groundstroke depth and a willingness to strike backhand winners on the run to keep the World No. 1 behind the baseline. Through two sets, Nadal had committed just eight unforced errors to put Djokovic under extreme pressure in their 56th ATP Head2Head meeting.
Djokovic's first-serve winning percentage improved significantly in a high-quality third set, from as low as 30 per cent in the first set, and he became a different player when he broke Nadal for the first time at 2-3. Djokovic started to mix up his tactics and, on occasion, serve and volleyed, but struck his fourth double fault at 5-5, 30/40, to hand Nadal a golden chance for his historic victory in Paris.
Nadal finished with his fourth ace to become the oldest man to win the Roland Garros title since 34-year-old Andres Gimeno in 1972. He is also the first man in the Open Era (since April 1968) to win four major titles without losing a set (also 2008, 2010 and 2017 Roland Garros).(From ATP)