Fact Sheet
Event Name:
  2009 China Open Tennis Tournament  
Dates:
October 2st,2009 - October 11th,2009  
Host City:
  Beijing, People's Republic of China
Venue:
China, Beijing, National Tennis Center. There are a total of 17 tennis courts, including the Centre Court (12,000 seats), Court No.1 (4,000 seats), Court No.2 (2000 seats), 6 outside courts and 8 training grounds.
  
Competitions:
WTA Women's Single / Doubles, ATP Men's Single / Doubles, Mixed Doubles, ITF Events
Organizers:
General Administration of Sport, The Beijing Municipal Government
Bonus:
Offering a total of 6,600,000 U.S. dollars, including 210 million for ATP 500 Series, 4.5 million for WTA Crown-Jewel Events, the highest prize money of tennis tournaments which took place in the Asian region.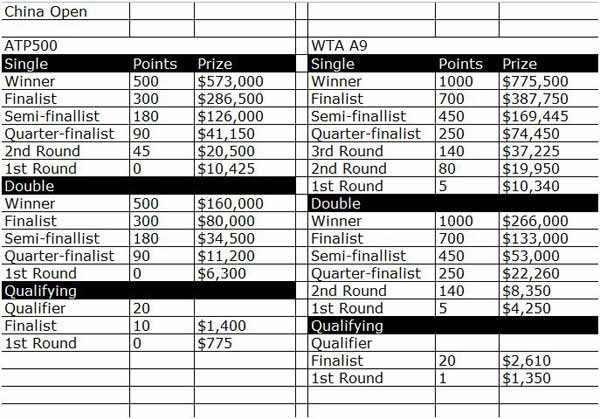 Players:
Top tennis players in the world, among them women's top 50 and at least half of the men's top 30 have to participate in the tournament according to the regulation.