Venues
  'Fan-friendly' National Tennis Center
The National Tennis Center looks like a flower from a distance.
The flower-shaped National Tennis Center is meticulously designed for natural ventilation to ensure the quality of the competitions for athletes and spectators.
  The center's three main courts are dodecagonal with each of the 12 sides as a stands. The gray cement walls around each of the 12 sections form 12 stands which look like 12 petals of a lotus flower in the Olympic Forest Park.
  With 17 competition courts, the venue covers a surface area of 16.68 hectares and has a building area of 26,514 square meters. The venue has a capacity of 17,400 seats, including 10,000 seats in the main court; 4,000 seats in the No. 1 court; 2,000 seats in the No. 2 court; and 1,400 seats in the seven preliminary competition courts at the No. 2 platform.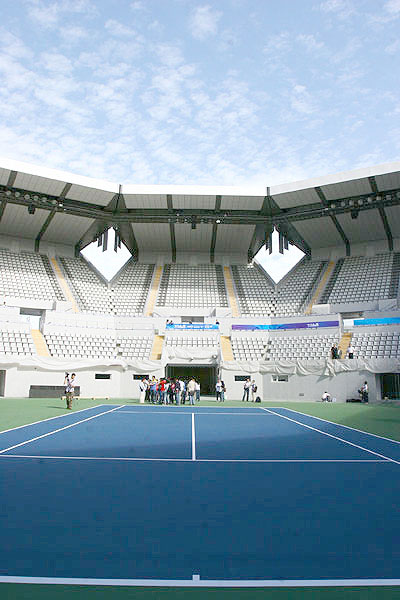 The tennis court under the blue sky.
  The main court is the biggest among the three "lotus flowers." Its "petals" are sustained by 48 sloping beams, each weighing 62 tons with a length of 17 meters. On October 11, 2009, some 10,000 spectators will gather here to watch the final matches of the 2009 China Open Tennis Tournament.
  Taking into account the small size of the tennis ball and its high speed, the architects have designed a steep stands which gives the spectators the best sight line, according to Zheng Fang, chief architect of China State Construction International Shenzhen Design Consulting Company, Ltd.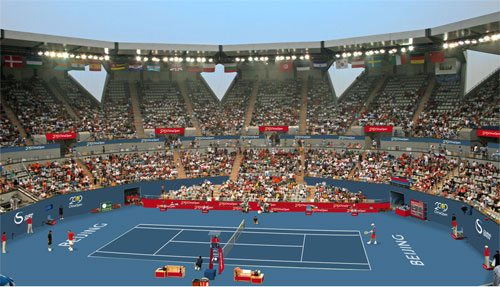 Full view of the main court .
  For the same purpose, the height difference between the stand rows is nine cm, instead of six cm for other tennis stands, he added.
  The seats for the people with a disability are installed alternatively with ordinary seats; thus disabled people can sit side by side with ordinary people to watch the competitions.
  The natural ventilation concept was introduced in the design of the center to solve the problem of high temperatures.
  Several devices to draw natural wind are installed to send the cooling breezes to the competition court through channels around the venue. The system can lower the court temperature by five degrees Celsius.
  At high temperatures, the automatic sun-shading curtains attached to the roof are able to fall to shade the quadrangular orifices between the "petals" from the sunlight, Zheng said.
  Designers have taken advantage of the inclination of the forest park's landscape to build a center on a mild west-east slope, in perfect harmony with its surroundings.