volunteer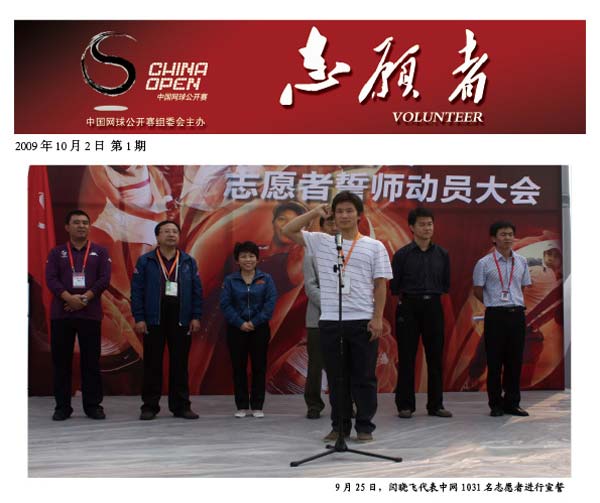 From Participation To Elite
  Thank all of volunteers that experienced and witnessed the China Open over the last five years.
  As an annual international sport event, the China Open has become the center of attention for more and more tennis fans around the world. At the same time it has become Beijing's symbol of large-scale international sport events after the 2008 Olympic Games. Over the past five years,many volunteers have signed up to support the successful operation of this great competition. In 2008 more than 521 volunteers contributed with 120 work hours per capita on average. These Volunteers not only play a significant role of China Open culturally, but also fully embody the China Open's international image.
  2009 China Open will be held at the National Tennis Center from October 2 to 11, 2009. The volunteers' work varies widely, and mainly includes players services, competition services, media services, volunteer services, business services and security services.
  The deadline for 2009 community volunteers' enrollment is May 15, followed by those who voted in CV, and will serve as a personnel network of reserved volunteers. There will be no longer unified interview arrangements. Please attach a photo and a resume with a self introduction in English. If necessary we will contact you. Thanks!