Home > News
LI Na signed with Kunlun Mountain yesterday
2011-09-29 12:51
27th,Sep. Kunlun Montains, the high-quality mineral water brand in China, signed a contrast with Asia's first grand slam champion LI Na in Beijing. As the representative of Kunlun Mountains, LI Na will promote the concept of Drinking Good Water to Improve Life Quality to the public.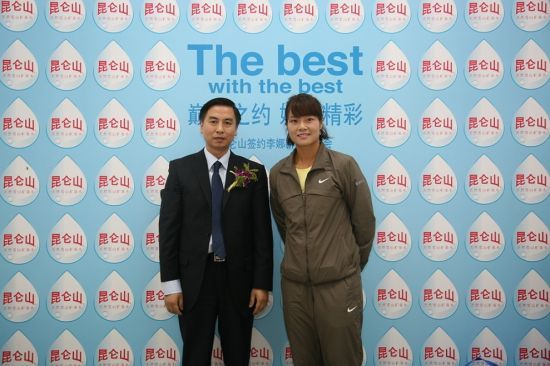 Photo of LI Na and the vice-president of JDB Group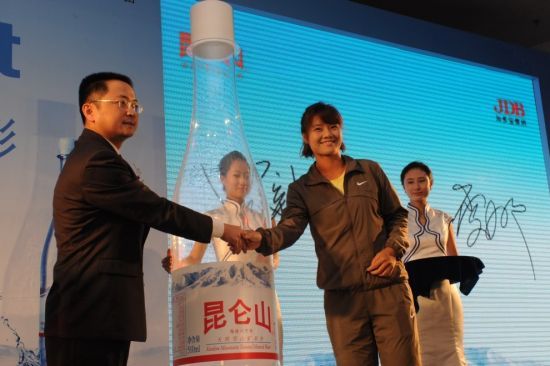 Photo taken on Signing ceremony
XIAO Tian, deputy director of General Administration of Sport of China said on the signing ceremony "The strong combination of Kunlun Mountains and LI Na is a joint of high-quality water and outstanding athletes in China. The cooperation of those two will promote the development of Chinese sports and high-quality water, thus a new trend of better life Keeping healthy, exercising more,drinking good water will be developed among Chinese."
First time for LI Na to represent high-end water brand
As reported, Kunlun Mountainsis the first high-end demostic consumer commodity brand that LI Na represents,followed by such international high-end brands, Rolex, Mercedes Benz, etc.
"We will never ask LI Na to represent a brandthat she doesn't like," said Max Eisenbud, agent of LI Na, who is in charge ofLI Na's business affairs,"Kunlun Mountains Natural Mineral Water is a kind of high-quality water which is from world's best water source, aiming at populizing good water and concerning about charity and welfare. LI likes it."
LI Na said, "As an athlete, it's very important to drink good water no matter in daily life or in training and the match. In recent years, I have been drinking different kinds of mineral water, but during the training and matches in national team, I was impressed by Kunlun Mountains natural mineral water, which is the only appointed water in national team." According to information, Li stayed abroad for a long time. She is very familiar with the sense and habit of choosing bottle water in Europeand America. Compared to these areas, Chinese people pay less attention to drinking water healthily. She hopes everybody could choose drinking water wisely and strengthen the sense of doing so.
Kunlun Mountains calls for healthier way of drinking water
YANG Aixing, vice-president of JDB Group, claimed that besides the big influence of LI Na, who is a world class sports star, Kunlun Mountains emphasizes more about Li's spirit, character andattitude towards life, which are in harmony with Kunlun Mountains.
In the news conference, Kunlun Mountains announced "Kunlun replenishment of water plan", which is designed for Li Na by Arthur, a world water expert and other Chinese authorities. The plan will provide instruction of water replenishment for LI Na in daily life, trainingand the matches.
The cooperation between LI Na and Kunlun Mountains is a win-win solution. In fact, signing the contrast with LI Na is not the first attempt that Kunlun Mountains pushes on the strategy of popularizing high-end natural mineral water. After sponsoring 2010 GuangzhouAsian Games, Kunlun Mountains sponsored 2011 China Open, cycling race around Qinghai Lake and other high-end events.The concept of good water improving life quality is now widespreading among all Chinese.