Pospisil, Sock rediscover winning feeling
——Professor trained teen open class project
2015-10-11 17:25:33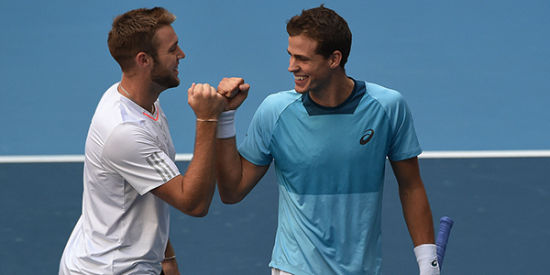 Rafael Nadal may have ended both of their singles campaigns at the China Open, but Vasek Pospisil and Jack Sock made up for that disappointment with a thrilling victory in the men's double final.
Facing a deficit of set and a break against Canadian-French pairing Daniel Nestor and Edouard Roger-Vasselin, "Pospisock" came storming back to triumph 3-6 6-3 [10-6].

It was the second title of the season for Pospisil and Sock-they won at Indian Wells in March-and their fourth as a duo.

After four straight first-round losses at preceding tournaments, their victory pushes them into ninth place on the ATP doubles team standings and keeps them alive in the race for a spot at the World Tour Finals in London.

"We had a bit of a dry spell in the summer and won no matches throughout the US Open series so to bounce back in our first week in the fall together and win a title feels great," Sock said.
"We feel we can beat almost any team when we're playing well and we really kind of got the mojo back this week."
For much of the first set-and-a-half on Sunday, such an outcome seemed unlikely.

Although Pospisil and Sock may have been the unofficial favourites as former Wimbledon champions and Nestor and Roger-Vasselin were playing in just their fourth tournament together, the Canadian-French team's recent success could not be discounted.

The fourth seeds in Beijing had already won a Masters title in Cincinnati and a final in Montreal and they combined strongly, storming through the first set against the unseeded duo and breaking serve when Pospisil sent a forehand volley into the net.

Yet Pospisil and Sock's greater experience as a unit shone through.

They broke back immediately and brought up two break points in the seventh game thanks to a backhand return winner by Pospisil. Sock converted it with a huge forehand which drew a volley error.

They had soon leveled the match, and the final would be decided in a match tiebreak.

Nestor and Roger-Vasselin forged ahead 3-1,only for Pospisil and Sock to respond with four straight points.

Sock's forehand proved a damaging weapon-he smacked an off-forehand winner to push his team ahead 7-5 and forced his opponents to duck with a similar shot on the next point,which landed just inside the baseline.
"There was a couple of them I kind of let go and unleashed on. When the opportunity presents itself out there especially in the double I like hitting it pretty big," Sock said of his forehand.
"From what I hear from some of the other doubles guys they don't like my forehand a whole lot."
Pospisil and Sock soon arrived at match point, but they didn't have to play a shot on the final point – Roger-Vasselin double faulted.

The pair has now won a title at every tier-a Grand Slam at Wimbledon 2014, a Masters 1000 event at Indian Wells, a 500 tournament in Beijing, and a 250-level title at Atlanta last year.
"We really turned it up in the second set, we started playing great - I don't think we missed a ball from the middle of the second set until the end of the match, so that was obviously key," Pospisil said.
"We enjoyed out whole week here, and that's the main thing to playing good tennis."(By Matthew Trollope)

Website: www.chinaopen.com.cn
Online sale:www.4007076666.com
Hotline:4007076666
Weibo:weibo.com/chinaopen
WeChat:CO_4007076666