Suarez Navarro loses match to Hantuchova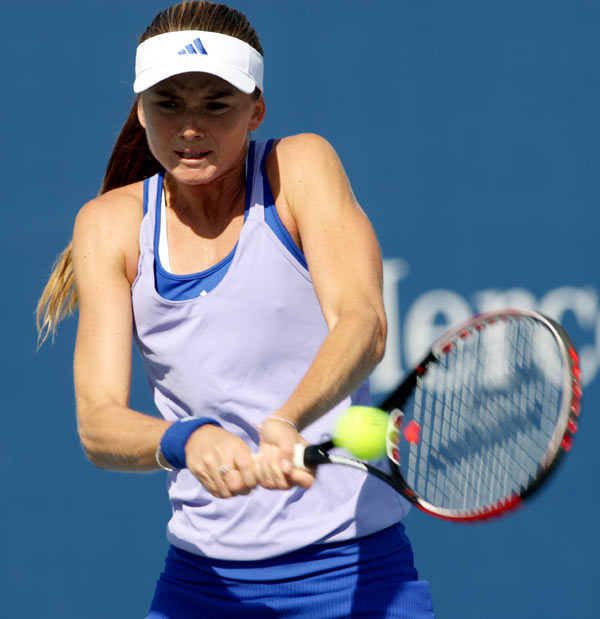 图片来源:中网官方图片社--Osports.cn
  By Cassandra Belek
  Daniela Hantuchova (No. 24) of Slovakia defeated Spain's Carla Suarez Navarro (No. 31), 7-5, 6-2, in the first round of the 2009 China Open on Monday.
  Suarez Navarro led early in the first set, but Slovakia's Hantuchova progressively played better. At 6-5, Hantuchova broke Suarez Navarro's serve to win the set. Hantuchova broke a total of three serves in the first set, and Suarez Navarro broke two.
  Control of the second set belonged to Hantuchova. Suarez Navarro couldn't score until the third game when Hantuchova hit the ball out of bounds at 30-0. The Slovakian won five games in a row before Suarez Navarro answered with two games of her own. But she was too far behind, and Hantuchova broke her serve on the next game to win the match, 6-2.
  Hantuchova most recently played in the Pan Pacific Open in Tokyo. She reached only the second round in singles but made it to the finals in doubles with partner Ai Sugiyama of Japan. It was an emotional tournament for the pair because Sugiyama retired from the WTA after their loss.
  Hantuchova came straight to Beijing from Tokyo, with no time to recover, and said she felt dizzy at times during her match Monday. But she was still excited to be at the China Open.
  "I have such good memories from last year, making it to the quarters and obviously playing the Olympics here was very, very special," she said. "So, I'm just really enjoying every match."
  Hantuchova facesRussian Nadia Petrova (No. 17) in the second round. (By Cassandra Belek)