Novak Djokovic eliminates Victor Hanescu in two sets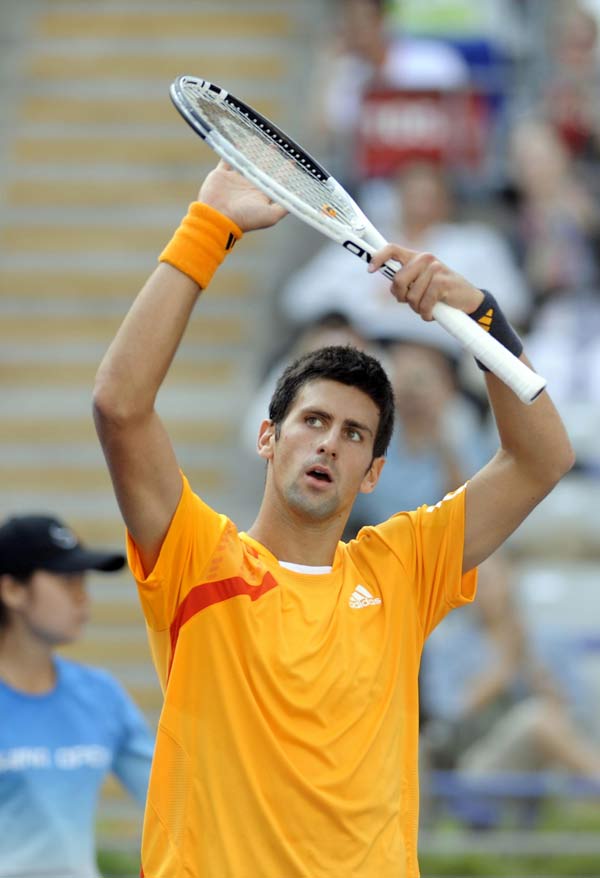 Serbia's Novak Djokovic (No. 4) eliminated Romania's Victor Hanescu (No. 27) 6-3, 7-5 Monday afternoon in the first round of the 2009 China Open.
  No. 2-seed Djokovic, 22, and Hanescu, 28, put on a fast-paced, entertaining match.
  Despite losing in two straight sets, Hanescu used his 6-foot-10 frame and one-handed backhand to put up a brisk fight. In the first set, he tried to keep up with Djokovic and energetically saved a number of points, including one hit from between his legs. He lost the set 6-3 after Djokovic broke his serve twice.
  The second set, however, turned out to be a challenge for the popular Serb. During the first four games, both players' serves were broken to even the score at 2-2. Hanescu and Djokovic followed with a quick win each, then traded games on serve to 5-5.
  Djokovic finally pulled ahead by breaking Hanescu's serve in the 11th game and finished the match at 7-5.
  "It was a little bit frustrating the way I was losing some points in the second set," Djokovic in a post-match press conference.
  During the second game of the second set, Djokovic managed to serve his raquet along with the ball, both clearing the net.
  In the press conference, Djokovic addressed the raquet serve: "It's not the first time it has happened, but I hope it is the last.
  "It's not certainly comfortable in that this has happened at such a big event. Unfortunately, I sweat a lot in the hand."
  Overall, he said he was happy with the way he played. "I just thought I should have been able to finish it earlier."
  Djokovic, who has 13 career singles titles, will next play the winner of the Viktor Troicki-Fabio Fognini match-up. (By Katlin Chadwick)