Peng upsets Sharapova in straight sets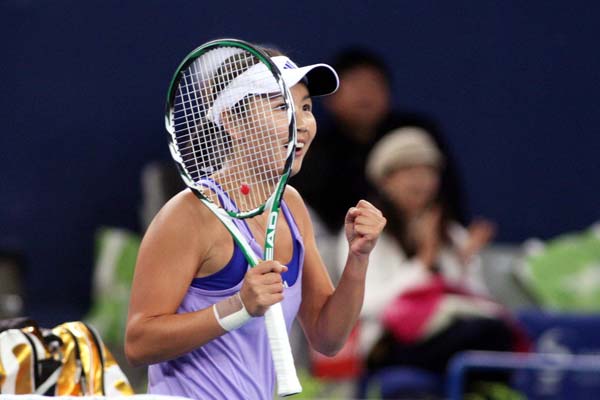 No. 53 Shuai Peng provided the most thrilling match of the tournament thus far for her home crowd at the 2009 China Open when she defeated world No. 15 Maria Sharapova, 6-2, 6-4 in the third round on Wednesday night.
  Even though she was unseeded, Sharpova's loss is one of the biggest surprises of the tournament because of her recent win at the Toray Pan Pacific Open in Tokyo on Saturday.
  Peng and Sharapova were on serve for the first five games of the first set before Peng broke Sharapova's serve in back-to-back games to take the set.
  "I was having trouble with a few things," Sharapova said in her post-match press conference. "It was not my day I guess. Usually I'm able to, when things are not going well, to fight and get myself going, and I was not able to do that today for some reason. I'm not sure why, but sometimes you have those days."
  With Peng up 5-2 in the second set, Sharapova began to battle back, winning three consecutive games and breaking Peng once to trail 5-4.
  Her comeback came to an end when Peng broke her the next game to win the match.
  Peng had two match points when Sharapova served at 15-40. The fans were so loud as Sharapova went to serve that the chair umpire had to repeatedly ask them to be quiet. Still, they cheered when Sharapova hit a first serve into the net.
  "I certainly expected it," Sharapova said. "If I'm thinking otherwise then I would be pretty stupid. When you're playing against the Chinese they're not gonna root for anything but. I have had a lot of experience in my career playing against home crowds, so that's nothing new."
  Sharapova saved both match points and, aside from the few fans cheering for her, nearly the whole crowd gasped in disappointment.
  Peng got another match point in the first deuce and when Sharapova hit her first serve into the net, the crowd was deafening. When Peng finally claimed the last point, she received a standing ovation.
  She played really solid and really aggressive and did all the right things to win the match today," Sharapova said.
  In the quarterfinals, Peng will play the winner of Thursday's third round match between No. 2 seed Serena Williams and Nadia Petrova. (By Sarah Callahan)