Press Conference: Marin Cilic(CRO)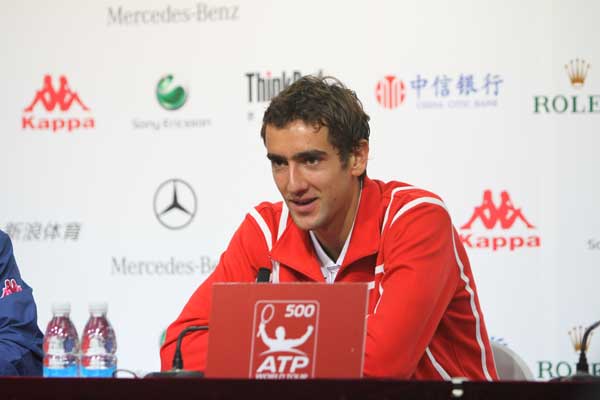 Date: 11th Oct. 2009
  Time: 19:40
  Scores: Marin Cilic lost to Novak Djokovic (2-6/6-7) in the final.
  Stats:
  Aces: 1Double Faults:1
  1st Serve %::62%1st Serve Points Won:25/41(61%)
  2nd Serve Points Won:9/25(36%)Break Points Saved:4/9(44%)
  1st Return Points Won:17/50(34%)2nd Return Points Won:13/24(54%)
  Break Points Won:3/11(27%)Total Service Points Won:34/66(52%)
  Total Return Points Won:30/74(41%)Total Points Won:64/140(46%)
  Q: What did you say during the ceremony about the conditions of the court?
  A: The rain, it was a little cooler in the night. It was different to adjust. Then we started the match. I think the conditions were a little bit slower than in the beginning of the match. He got the best time over there, breaking immediately and winning that first set. Later, I mean I had a lot of chances there, missing two easy balls that I had to put away, and I was maybe a little bit unfocused in those moments, and that took the edge from me.
  Q: You've had good results lately. Do you feel that you're getting to the top, that it's a breakthrough moment for you?
  A: Yeah I think also this week I played great. I felt amazing on the court playing some of the best tennis of my life. Definitely, I think if I keep this level for the rest of the three, four tournaments I'm going to play, definitely I have a chance. Next week is Shanghai, so I'll try to continue with this form and to try to do well there as well.
  Q: How big a factor were nerves for you today especially after the rain delay having to go and sit and think about it?
  A: The nerves were not that much to me. I think just that I didn't find the right range between trying to hit the winner or trying to put it in the court, so I was a little bit struggling with that to find some average over there. When I was sometimes going for the shot I wasn't in the right position. So I would say more the things that I didn't do well are deciding.
  Q: You have lost to Novak three times. Are you trying to do something different in this game and what part of his game makes you uncomfortable?
  A: I think today he played very good from the back of the court, and he was defending pretty good, so it was tough to get some free points and to be in a good position. I think I didn't serve good today. Losing my serve five times in three sets is a little too much. I think if I put some pieces together today, I'd be able to at least go into the third set. I think at crucial moments he played good and he didn't let me make too many easy points.
  Q: You come from the same country as Goran Ivanisevic. Do you have a special relationship with him?
  A: Not really. I mean, he's a great icon in Croatia, and I think he's one of the players that got Croatia big attention for tennis, but I think my coach is taking care of the tips and everything, and he's deciding what I'm going to do and where to lead me with my game.
  Q: How are you feeling about the China Open?
  A: I think the tournament was great, and even though we had the girls over here, I didn't feel so much people around as sometimes at other combined events. I definitely enjoyed everyday over here, and I'm looking forward to coming back next year. I think the conditions were very good for me, for my game. I enjoyed it a lot over here.
  Q: Do you feel unlucky when you lost the crucial point in the tiebreaker when you were rushing into the net, but it was a little bit slippery on the court and you fell down? Did that point hurt your confidence? Because after that you lost two points in a row and that tiebreaker could have gone either way.
  A: It was a little bit unlucky that I slipped at that moment, but I think what decided the match was a little bit earlier when I was serving for the set twice. In those moments, I had to take my chance to go into the third set.