Svetlana Kuznetsova wins women's singles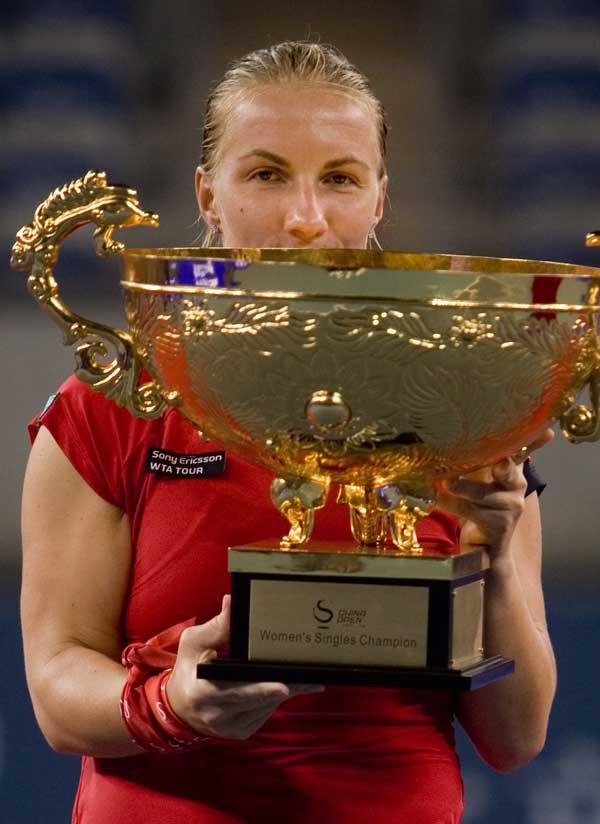 Svetlana Kuznetsova defeated Agnieszka Radwanska of Poland to win the 2009 China Open Sunday evening, 6-2, 6-4.
  Kuznetsova (No. 6) has played in the final round of the China Open four times in the past six years. She won the 2006 China Open, making this her second championship.
  Kuznetsova started off the match strong, breaking Radwanska (No. 12) in her first service game. The Russian player seemed very relaxed, bouncing the ball off her legs, head, and knees like a soccer ball, consistently keeping the crowd entertained.
  "I really enjoy it," Kuznetsova said about the habit in her post-match press conference. "It's a form of entertainment for me. It helps to release the pressure."
  She broke Radwanska twice more in the first set, taking it 6-2.
  Radwanska fared a little better in the second set, losing only one of her service games, but Kuznetsova's impressive forehand shots and consistent play allowed her to close the set at 6-4.
  Kuznetsova now leads 6-3 in matches played against Radwanska. In order to reach the championship, Kuznetsova also defeated No. 13 seed Nadia Petrova, Anastasia Pavlyuchenkova (No. 39), and China's Jie Zheng (No. 32).
  "I don't know why, I always have special energy on this court, Kuznetsova said. "I guess it's because the organizing committee has organized a very nice tournament for the players and crowd."
  Following the China Open, Kuznetsova will begin to prepare for the season-ending tournament at Doha.
  "Normally, I am very tired at the end of the year," Kuznetsova said. "Winning the title at the China Open brings my confidence up before Doha." (By Sarah Callahan)