Kuznetsova Conquers China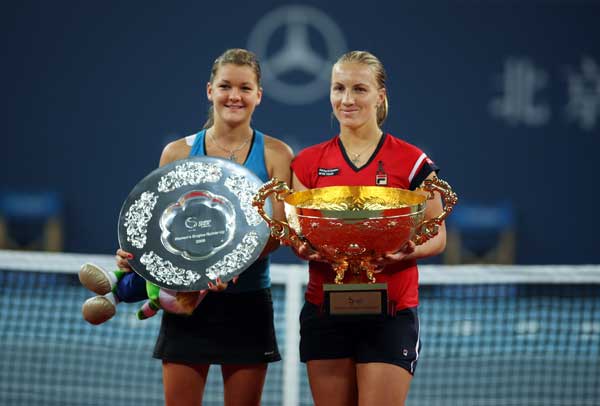 Svetlana Kuznetsova spoilt Agnieszka Radwanska's perfect finals record on Sunday with a 62 64 win in the title match of the China Open, the French Open champion's third Sony Ericsson WTA Tour title of the year and the 12th of her career. Beijing: Final Highlights
  Kuznetsova, the No.6 seed at the $4.5-million, Premier-level tournament, broke serve in the opening game and would end up cruising through the first set in just 31 minutes. The second set was tougher but again she broke the No.12 seed in the opening game before the pair held on tightly to their service games the rest of the set until the Russian won. Shot of the Day: Svetlana Kuznetsova
  Kuznetsova's first two titles of the year came at Stuttgart and Roland Garros during the spring. She went 8-7 in her seven tournaments since the Parisian triumph, including an opening round loss to a qualifier at Tokyo last week - but in Beijing, where she had never lost before the final in three previous tries, she came to life again, eventually blemishing Radwanska's 4-0 record in finals and beating her nemesis for the third time in their last six meetings.
  "In the finals I lost here, I lost to Serena Williams - who hit so many aces in that match, in 2004 - and Jelena Jankovic last year," Kuznetsova said. "The other night when we had the official reception, I stood beside Serena and told her I remembered that match. But I love the atmosphere here and I try to bring my best in the big matches." Interview: Svetlana Kuznetsova
  By virtue of reaching the final, Radwanska assured herself of a return to the Top 10. She spent 35 weeks inside the Top 10 between July 7, 2008 and March 22, 2009 (dropping out for the 2008 US Open fortnight but spending all other weeks inside that period inside the elite). She had been hovering between No.11 and No.14 ever since dropping out on March 23 this year (after Indian Wells).
  "Svetlana played really well today. She had nothing to lose either - she's already going to the Sony Ericsson Championships," Radwanska said. "I'm happy to come back to the Top 10 after this tournament. I finished last year in the Top 10. I've done well in two of the most important tournaments after the US Open."
  Perhaps equally significant than the title itself was the No.1 ranking exchange between Dinara Safina and Serena Williams. Whoever did better at the China Open would be No.1 - and while Safina lost to world No.226 Zhang Shuai in the second round, the lowest-ranked player ever to defeat a world No.1, the No.2-ranked Williams made it to the third round before falling. Thus, Safina surrenders her top spot to Williams, who begins her 73rd week there.
  Hsieh Su-Wei and Peng Shuai won their fourth Sony Ericsson WTA Tour doubles title as a team with a 63 61 win over Alla Kudryavtseva and Ekaterina Makarova. Hsieh and Peng, who were the No.5 seeds, needed just an hour and one minute to stop the all-Russian duo. Hsieh and Peng had previously won titles at Bali last year and at Sydney and Rome this year. Hsieh now has seven Tour doubles titles to her name; Peng has six.
  "I'm very happy to play on my home court, with my doubles partner and coach with me. The support of my fans made me feel more excited and eager to win," Peng said. "When I was behind in my second round singles match against Jankovic, it was the support from the fans that made me win and fight all the way to the quarterfinals. I want to thank them all."