Stacey Allaster Press Conference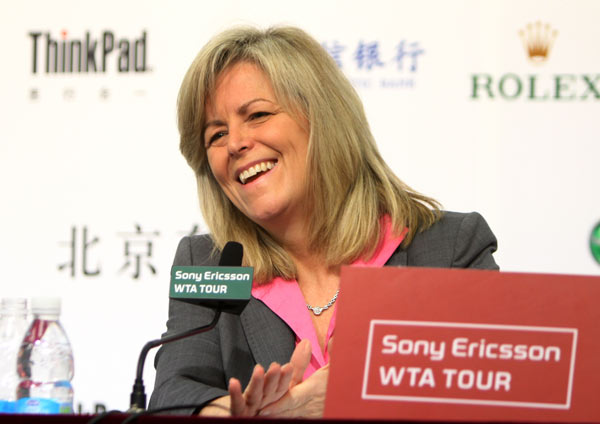 Date: Oct. 10th 2009 Time: 10:45am. Local Time
  Stacey: Ni Hao. I hope I did that ok. I would also like to thank you all for coming this morning especially after your long evening. It is with great pride that I represent the players and the tournaments of the Sony Ericsson WTA Tour and be here this year for the historical China Open. I'd like to thank the Beijing Municipal government and China Open, Ltd. for realizing the dreams of China to stage one of the very important events on the Sony Ericsson WTA Tour. We have 4 premiere mandatory events in the world and one of them is now here permanently in china. And without question when I arrived on Tuesday for the official reception, I heard the theme song of the china open and I enjoyed it so much because – flying with pride- and that is what I have felt since I arrived here in China at the China Open.
  So certainly the facilities here are incredible and I know when I first came into the building I just talked to myself, wow! this is a world class tennis stadium. And this is equally as excited as I was to be in this building, I was also shown the plans for the new stadium that is been built which obviously shows the commitment the Beijing Administrative government has for the China Open which is fantastic for women's tennis; fantastic for fans around the world. I also want to congratulate all of you for the fantastic crowd that has been coming to this China Open. I think that's the reflection of the long work that is gone into preparing for this event and obviously the latest year, the Olympics Games, I think, of that spirit of promoting sports to Chinese people we are now seeing this week. . Also the media coverage, china open is going out to 80 countries, and CCTV 5 is maintaining the very highest quality of television production which is important to us on the Sony Ericsson WTA Tour. And I can tell you the players have enjoyed the hospitality of the Chinese people and equally supportive of all of the people that are working here at the China Open.
  So with the China Open as the foundation for Chinese tennis I also have to congratulate the Chinese Tennis Association for the great work they are doing with the athlete' development. Very quickly China has risen in the ranks. You have three players on TOP 100, and three in almost Top 50. Peng Shuai will with her success this week rise up, that is very fantastic. And it is a short period of time. And without question, the combination of the events, the athlete development and the investment in coaching, your stars, wining on big stages like here in China and around the world is going to breed more confidence. And if we look at young Zhang Shuai, she proved this week what can happen that anyone in the China Open can beat the NO.1 player in the world. And that would just continue to breed confidence amongst the Chinese players.
  Finally I would just like to comment on the commitment Sony Ericsson WTA Tour has to tennis in China. So we opened our office here in Beijing in May 2008. Together working with China Open Limited, we want this event to be among one of the most successful events on the tour, and we are committed to cooperating and working with China Open Ltd. I think it's important we continue our relationship with CCTV5, the broadcaster of all our top events, semi-finals and finals. That's important to build the story for the promotion of tennis leading up to the China Open. As well we have built up our Chinese language website. That is our first foreign language website. That's incredibly important as a foundation for promoting the sport. And as well being here in Beijing helping, working with Chinese Tennis Association to promote the sport with tennis festivals and working with other areas around the country. Being Guangzhou, Ningbo is building new facility where we want to have more entry level professional events and to help build a year round story and have all levels of promotion for the sport as a whole.
  And my final comments are just congratulations to the people of Beijing. I was here in 2006 when much of the city was under construction for the Olympic Games and it's a significantly regret in my life that I was not here for the Beijing Olympics. it is such an appreciation for the celebration you had for sport. I had the pleasure of going to the birds' nest the other evening to watch the opera Turando for a moment. I had a feeling what it was like to have been here for the Beijing Olympics. The city it is beautiful and fantastic. Again we are very proud to have one of our Top 4 premier mandatory events here in Beijing. Thank you.
  Q: Hi, XXX From Sports Illustrated China. I have two questions. The first is that, WTA has traditionally had a very strong relationship with its players and generally the players are pretty satisfied. How do you plan to maintain that relationship?
  A: We've got the very best athletes in world. And a big priority for the Tour is their Health and their well being. The largest department we have is our Sports Science and Medicine department. We think that is a key to our success. In addition, we have extensive player relations team that travels with the tour, to help them with whether they would be getting visas, their travel, coaching assistance etc. It's a top priority both their health and relationships, good communications. Part of my job is to travel. I travel 140 days a year and to be on the ground to listen to the athletes. And that's a key component. We also have a player council, representatives of the player themselves. We meet with the council 3-4 times a year. They are very engaged on the business aspects of the Tour and as well any changes we might be making to the competition.
  Q: My second question is, on the flip side of that, what do you think is the weakest aspect of the tour, and how do you eventually get that?
  A: I think for us the work ahead is the investment required in digital media. I think the Tour, we have made great strides in having two language website. We launched our new website this past year. We have now our Chinese language, we will by the year end have a Spanish language, and 2010 will be Russian. Into the fold and the other big area of growth for us in digital, it will be mobile. When we look at other leading leagues, the mobile offering with video is critically important, so that I think is the biggest gap we have right now,but in our strategic planning going forward is a priority.
  Maybe just the other area of strategic priority for the business, we are a global tour with very good footprint in the North America, Europe and now Asia Pacific. We still have a hole in Indian and in brazil, which we think in a long term are important markets for us. So we will be looking within our long business plan, and how we might have a brand presents and engaging with fans and those markets, maybe a little differently than those we have in the past. Maybe does not need to be a tour event, could be a special event, could be grass roots development, could be working with universities, and really borrowing a growth plan from other leagues like the NBA.
  Q: In 2009 When the China Open was upgraded, Tour's president then, Larry Scott anticipated, Beijing will become a tennis capital in Asia Pacific areas. What do you think about this anticipation? My second question is about something china open has to improve
  A: Larry is a very smart man. Larry Scott, our former Chairman and CEO. And I'd have to agree that you are definitely well poised to be a leading tennis nation in Asia Pacific region. The infrastructure being built, commitment to the facilities, the media, the athletes will very much hold you in a good status of achieving the dreams to be a leading tennis nation.
  I think it is built upon success. A success I think it is important that players love to compete in a full stadium. I know the crowds have been excellent this week. One of the challenges when you have will a big stadium and a large site. Because there are many people on site, about 25,000 a day, but they are might not necessarily be in the main stadium when a match is on. So that would come in time when you have more fans and certainly when the new building comes, that would be an ongoing concern, but certainly the total footprint of the site would allow for crowd like the US Open where there are 50-60 thousand people a day. And that would be I think a goal China Open have, the ambiance of a full stadium for the matches.
  Q: Good morning, I am aware that you represent all the players of the WTA but would you not prefer to perhaps have none of the Top 5 player in the Semi-finals in such big events, the second part is, does that mean a part of a rumor that the top players are still playing too much tennis can't produce good results in the end of the season, will that ultimately affect your Asia Pacific strategy? ,
  A:The first question, I think the depth of women's tennis is being demonstrated here. Even if we look back for four weeks ago in the US Open, what is happening in women tennis is that in any given day someone in top 50, top 40 can beat a top 10 player. That overall is about growth and depth. So that is good. I also think we have to be respectable. Svetlana Kuznetsova is Grand Slam champion this year and has had one of the most consistent performances all year. And Radwanska has been our upcoming star and she is breaking through. So when that happened on a big stage like China Open, I think it is great for women tennis.
  We definitely need to continue to monitor the level of the player and athletes, the health and the wellbeing of the athlete is important because we ultimately want to be able to deliver to fans and to sponsors. As we were through the roadmap, the player has commitment to play 13 events, we brought that down to 10 and we modeled that off a five years of good research of what the top 10 player would play. So I think we got the right low, and in any new circuit structure, the athletes have to recalibrate to the schedule. I think it will be interesting to see how they adapt and maybe make tweaks to the 2010 calendar based on their performances this year.
  Q: I am from 163.com. I want to know if some Chinese year people want be Tour's stuff and work for WTA Tour, what efforts they should make?
  A: We have 9 people stuff in Beijing, and seven of them are locals, particularly in the communication area and in the website, you've seen Jenny, make a reservation.
  Q: Sina.com. Hi, welcome to China. The first question is, concerning, everyone thinks China is a big and potential market for sports after Olympics. With almost a year and a half work in Beijing, after you set up WTA office in Beijing, What do you think how do they do for promotion of tennis in china?
  A: I think everyone's doing a fantastic job. The evidence is here this week at the China Open. To have the growth in the crowds is the testament to the promotion that has gone on. I also think our team has experienced the tennis festival and how exciting and powerful those were for general promotion of the sport. And we want to do more of those types of activities where we get rackets in young people's hands. I also participated in the Tennis International Summit, meeting with coaches. What I took away from that was the collective responsibility that we have is to teach Chinese people the rules of tennis and how the sports is played. And I think we can do a lot of that through our website, through these tennis festivals, through instructional video clips with the Chinese stars, so I think there is a huge potential for us to promote this sport to young people.
  Q: well the second one is, the schedule of the tournament has been discussed for years. Every time it is going to be held in late September or early October but you can see the weather here in Beijing could be very cold in evening so we have discussed if golden times like April or May are better than September and October. Is there any future plan for China that we could have more competitive tournament in the future like, now the player takes part in the match can have some injuries or problems. So I don't think this is very good for this sport in China.
  A: I think overall the health and well-being of the athletes is the priority. If we look at the how the circuit structure is created, what we knew from our old structure was we had the player traveling all over the world and there was no geographic flow or surface flow, environmental conditions, and so we know that they can play about 10 top events, we knew they can put 4 mandatory in their schedule, unlike the guys that have 8. We looks where the Grand Slams are, the best time to have the China Open is this time of the year. So I do believe that we have a very competitive event here at China Open, and we will continue to monitor it to see the flow facts of post US Open. And I do believe it is a recalibration for the athletes as they get use to this new schedule and the importance of China Open in this last part of the season.
  Q: Stacey, I am from China Daily. I just want to know how much potential do you see in China's market, because you just mentioned NBA, like NBA's achievements, etc, what kind of experience you have learnt from them for developing tennis in China?
  A: I have been following David Stern's success in sports since the beginning of my career. I remember when I was in the university I read an article. It is in 1991. What struck me was about David's vision for the sports of basketball. That was nothing was sacred and everything had to be focused on the fans. And that's certainly been how I have focused my career in tennis, to be focused on fans. And David had this incredible vision to come to China, I think, 23 years ago and offer CCTV basketball. That was 23 years ago, but he had the vision to be here and built the fan base. So very much when I came in 2006, what struck me then and strike me again was when I drive through the city, I saw basketball courts, and I see NBA's brand with those basketball courts and I see the NBA store. What we have, we have the China Open. China Open is the marketing beacon for the sport. We have incredible athletes as a foundation. And we now come here to be on the ground, to be working with China Tennis Association, to work with China Open Ltd. to grow the fan base, educate fan base and increase promotion through television on CCTV5 and also the web. And I think it will be a combination of all those opportunities that will really propel the growth of Sony Ericsson WTA Tour here in China.
  Q: We all know Serena has something hanging over her head concerning the possibility of more punishment from actions at the US Open. Can you tell something about her addressing if she will like hear something or we will like to hear something.
  A: First I just like to say something about Serena, which is I think Serena is a fantastic champion and a great person. She has acknowledged the incident in New York is a mistake and something she is not proud of and she has apologized for that. It is now under investigation. It is ongoing. But the timing of when they'll make their ruling, I am not exactly sure. But they are definitely engaged in the process now - that's all I can tell you.
  Q: Given that it's a grand slam investigation which will result in next Grand Slam, do you think some decision would be made before the Australian Open?
  A: I think it would be safe to assume that they will make their decision before year end. I think all of us would love to have the resolved sooner rather than later. It would be the best interest for the sport and definitely the best for Serena.
  Q: You have mentioned the Beijing municipal government many times. What is the role that the government is playing here? How different is it from other tours?
  A: We have 53 tournaments around the world and there are certainly varying degrees. We have three types. Those that are independent; Those that are federation based; And those that are sometimes government. This is maybe a combination of government and a company working on it. No doubt to have an event of this stature requires a significant government support. If we look at our 4 Premier Mandatory events, Madrid's government very involved in building Magic Box Stadium, that was a part of their Olympic bidding process Indian Wells is privately owned and Miami is owned by an agency, but I know the local City government was involved in building up that stadium. Typically with large stadiums governments are involved in helping.
  Q: This question is about the ranking system. People say that the current WTA ranking system is showing the most hard working players instead of the champions where Serena William has mentioned that she cares more about the grand slam champions more than the ranking. So what can you say about that?
  A: Ranking debate has gone on for many many years and most likely it will continue. I think most important for the sport is that we have ranking system that rewards consistent performance. Not only at the grand slams, but at events like the China Open. If we don't have a ranking system that rewards players for performance at events like the China Open, then events like the China Open won't become meaningful to the athletes. So in total the Sony Ericsson WTA Tour ranking system rewards performance consistently throughout the calendar years of the athletes' best 16. And without question for the longest period time this year the consistent performer at Slams and Sony Ericsson WTA Tour events , is Safina without question. And now we move to the change and the rankings, Serena will be the No.1 next week. Maybe I should add that each year we have a program for the young players called "Rookie Hours" and Billie Jean King comes to that section to talk with the athletes. And she said them this year "Remember each week wherever you are in the world, that event is the most important, because that organizing committee, that group of sponsors, that government that has built the building and staging that particular tournament. It is critically important to them in their local community." So without question, our sport, the Grand Slams are incredibly important to win. But equally important, we need a strong Tour, and strong Tour events like the China Open for Women's tennis, and our players to be successful.
  Q: I would like to ask something more into about Serena's dilemma, If the decision made by ITF is to ban Serena from the Australian Open or any other outcome, concerning she is a great champion, do you think this decision is good for tennis or if she is not, there might be a dilemma how well WTA would extent to it other players, if it is fair, because she actually did such bad behavior in US Open, thanks.
  A: I think to be fair to the process, because the matter is under review I am not going to speculate on the matter any further. Again Serena Williams is a great person and a great champion, and that was a night that she knows she made a serious mistake, for which she's dealing with that personally, and she's apologized for it. We will let this review process with the Grand Slams Committee find the resolution.