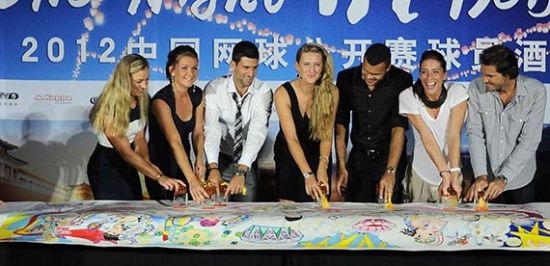 When Victoria Azarenka arrived at the player's party Monday night, a large, red lantern was hung in her honor. The best tennis players in the world had a good time together sharing the Chinese culture.
Lanterns were hung from the ceiling in honor of each top-ranked player that arrived at the 2012 China Open players cocktail party, called "One Night in Beijing." The tennis stars walked down a red carpet into the dining room where they where greeted with food and beverages.

The party, held at the hotel where many players stay during the tournament, was hosted by the Open. Players in attendance included Azarenka, Novak Djokovic, Agnieszka Radwanska, Tommy Haas, Angelique Kerber and Laura Robson. As each top player entered the party, they signed oversized tennis balls as well as a scroll.

The hotel's second floor was filled with tennis players dressed in formal black and red attire. Though many players did not stay the entire evening -- many have matches the next day -- they waited long enough to enjoy the traditional Chinese delicacies and beverages offered.

After entering the venue, eight players were invited to the stage multiple times. After posing for photos, each player stamped his or her name in Chinese characters on a poster.
Though many of the players left after the events on stage, coaches, sponsors, and other tennis personnel stuck around. The party featured native Chinese candies, waitresses in traditional dress and live music.
The event celebrated the Open and its players, and is planned to be a part of the China Open experience for tournaments to come.
By Stephanie Halovanic