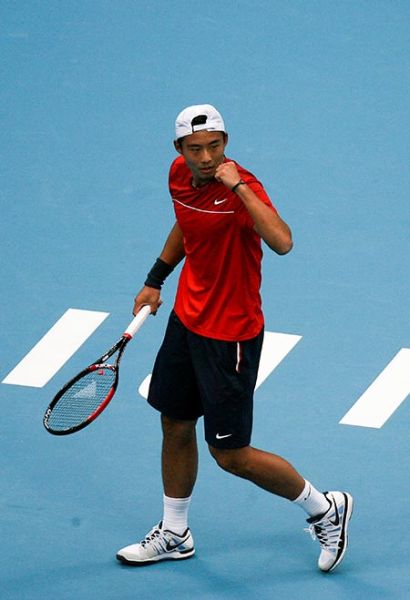 The entire crowd went wild as Chinese wild card entrant Zhang Ze sent a winner zipping past Richard Gasquet to beat the No. 14 player 6-4, 3-6, 6-4.
The 22-year-old player from Nanjing, China, is ranked 165 and pulled off probably the biggest win of his young career. He has been taking on higher quality competition all year and Thursday Zhang came prepared to play。
"Today I have no fear," he said after the match. "I'm very much relaxed. I'm not that nervous, so I'm going to try my best to play with utmost performance。"
And perform he did. Zhang won the game with big serves and aggressive play, catching Gasquet out of position and sending winner after winner soaring by the French player. The crowd was on Zhang' side from the start, their chants and shouting progressively increasing in volume and frequency as the match went on. By the end of the match, the umpire had to calm the crowd between every point before play could continue。
Many times throughout the match, Gasquet's shots made friends with the net or bounced just shy of the lines. For him, playing on China's hard courts added another element of challenge to the match." The court was fast, which was different for me." He also stated that the two other tournaments he played recently had taken their toll on him。
In talking about the match, Gasquet said he tried to play Zhang "backhand-to-backhand", a strategy that Zhang was well-prepared for.
"My coach knows his weaknesses better and his backhand is not that good. But even his backhand is even better than his forehand, so that has already given me a lot of opportunity to control the game. That's why I played a lot against his forehand today." said Zhang。
Zhang's coach is Guillaume Peyre, Gasquet's former coach.
Gasquet played nearly the entire game from the baseline. He relied heavily on his backhand slice, which he used in an attempt to keep Zhang's attacks at bay. Gasquet also utilized cross-court shots to keep Zhang on his toes。
Zhang will go on to face Florian Mayer in the quarterfinals of the Open. Mayer is currently ranked No. 29 in the world and defeated Italian Fabio Fognini in straight sets in the first round. If Zhang beats Mayer he will go on to the semifinals where he might face the No. 2-ranked Novak Djokovic。