Pospisil and Sock reached the final,meet Nestor and Roger-Vasselin
——Professor trained teen open class project
2015-10-10 22:58:39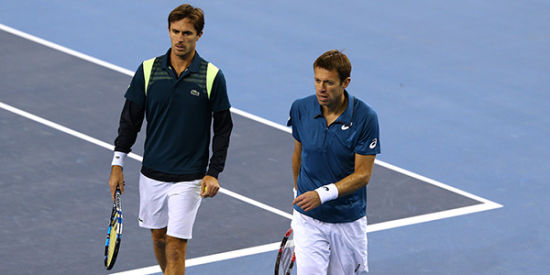 Vasek Pospisil of Canada and American Jack Sock reached the men's doubles final today with a straight sets victory over top seeded Jean-Julien Rojer and Horia Tecau 6-3 6-4.
Delighted at the victory in Beijing, the result is the pair's best showing since March when they
Wimbledon champions in 2014, Pospisil and Sock haven't played together since the US Open.
They are currently 10th in the rankings and looking to make the cut at the year-end ATP Championships in London.
Reigning Wimbledon champions Rojer and Tecau were the defending champions in Beijing.
Nestor and Roger-Vasselin also reached the final, defeating No.2 seeds Marcin Matkowski and Nenad Zimonjic 6-4 7-6.
This will be the third final for Roger-Vasselin and Nestor in 2015: they won at Cincinnati and lost the Rogers Cup in Canada to the Bryan brothers.
Pospisil and Sock's last crown together was the Masters 1000 at Indian Wells.
Website: www.chinaopen.com.cn
Online sale:www.4007076666.com
Hotline:4007076666
Weibo:weibo.com/chinaopen
WeChat:CO_4007076666