Hingis, Mirza win title number eight
——Professor trained teen open class project
2015-10-11 16:41:39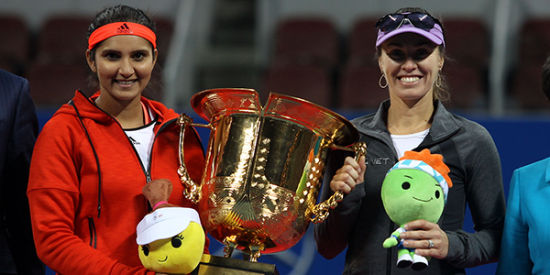 They were pushed to the brink, but No.1 doubles pair Martina Hingis and Sania Mirza showed just why they are the world's top team.
  Hingis and Mirza overcame Chan sisters Hao-Ching and Yung-Jan of Chinese Taipei to win a thrilling China Open doubles final, closing out a 6-7(9) 6-1 [10-8] victory in one hour and 40 minutes to take their winning streak to 18 matches.
  "It was a great match. It was fun to watch. It was really fun to play as well. Now that we've come off, it was a really fun match to play," Mirza said.
  "We probably should have won that (first-set) tiebreak because we were up the whole time in the tiebreak. All credit to them, they came up and made us hit one extra ball. They probably played them the best out of the last five or six times we played them.
  "We tried to get ourselves together. It was a tough tiebreak to lose. We could have easily mentally lost it. We wanted to keep it together and used our experience."
  Hingis and Mirza were right to be wary of the Chans, who were the last team to beat them – back in the Cincinnati semifinals – and who had just cemented their place in the doubles field at the WTA Finals in Singapore.
  But the Swiss-Indian pairing, the reigning Wimbledon and US Open champions, played best when it counted most.
  "I feel like we're doing so well on big moments, big points. We had so many opportunities we were able to create in the first set, end up losing it. We stayed aggressive and tried to keep pushing, create more opportunities. All of a sudden things start happening," Hingis reflected.
  "They dropped the level a little bit, and we were right away on top of them, broke them, were always up. I think that's what was killing them. That's what we did in the past matches every time.
  "Once we were in the super tiebreaker, we were always winning."
  Hingis and Mirza's China Open victory was their eighth WTA title of 2015.
  The last team to win eight tournaments in a single season was Italian duo Sara Errani and Roberta Vinci in 2012.(By Matt Trollope)