China Open recap: Top 4 moments you may have missed from Beijing
——Professor trained teen open class project
2015-10-28 17:40:18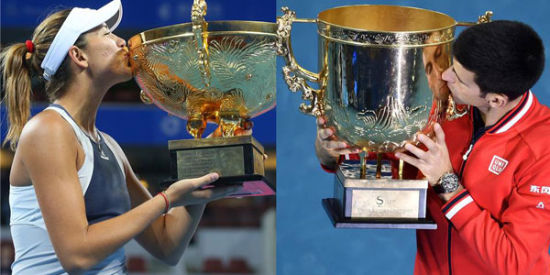 The joint WTA-ATP China Open wrapped up , as No. 1 Novak Djokovic defeated Rafael Nadal to maintain his dominance in Beijing and Garbine Muguruza topped Timea Bacsinszky to claim the title. The tournament is popular among players for its proximity to the players' hotel and among fans for its ease of access, located just a few subway stops away from the Bird's Nest, the official national stadium. As an ATP 500 and a WTA Premier Mandatory event, the tournament traditionally enjoys strong draws on both sides and the 2015 edition saw 16 of the top 20 women and eight of the top 16 men were in the field.
  In case you missed any of the action, here are the top storylines and quotes from a week in Beijing:
  The Great Wall can only get you so far
  China had six players in the singles draw (two men and four women) but none would make it out of the second round. In a post-Li Na era, Chinese journalists were focused on finding the next great hometown player, especially on the men's side where China's top three players are already in their mid-20s and ranked outside the Top 200.
  "Chinese people can make a Great Wall, but cannot produce a tour‑level player。" – Journalist to Novak Djokovic, after he handily beat China's No. 1 player, Zhang Ze, 6–2, 6–1 in the second round.
  "As for those top‑level players, they will not succumb to those temptations。" – Zhang Ze on eating (or not eating) delicious food, one aspect that he says separates the top players from the rest.
  Retirements abound
  In the tail end of a long season, withdrawals and retirements were as common as dumplings and chicken feet. (Seriously. Available everywhere as an individually packed snack。) The women's side was hit hardest, as Simona Halep, Eugenie Bouchard and Madison Keys all withdrew before the start of the tournament.
  "Everyone is like dead。" – Belinda Bencic on the state of players. She would withdraw before her second round match with a hand injury.
  "I remember a few years ago, there was always a bit easier beginning of the week. Then from the quarterfinals you really starting to play just another intensity. And here right now, everything starts from the first round。" – Agnieszka Radwanska, on the improved quality of opponents as a possible contributing factor to more injuries for the top players.
  The race for Singapore, London
  Players and fans alike spent a lot of time trying to figure out the permutations of point calculations for the year-end finals. Before the tournament started there were 19 players that had a chance at six remaining spots for the WTA Finals. It was on everyone's mind, whether they liked it or not.
  "Is it true?" – Garbine Muguruza, when told she needed to win one more match to qualify for Singapore. (She would eventually qualify by reaching the quarterfinals.)
  ​"If I make it, it's okay. If I don't, I go on vacation。" – Flavia Pennetta on her prospects of making the WTA Finals.
  "I mean, you ending after Singapore, for example, No. 9. Then someone's getting 700 points. Suddenly from 9 you're 12. You thought you finish No. 10. What now?" – Agnieszka Radwanska on the new WTA Elite Trophy in Zhuhai, coming one week after the World Tour Finals in Singapore.
  "Honestly, I don't even look at it... It's always the same. So there is no need to be worrying about that or giving it any extra attention。" – Tomas Berdych, who lost in the first round but is at No. 5 in the Race to London.
  "I think he has a good problem in a way to being in kind of two finals。" – Novak Djokovic on speculation that Andy Murray may skip the World Tour Finals to prepare for the Davis Cup final.
  Winners' circle
  Winners from last tournament, Tomas Berdych (Shenzhen) and Venus Williams (Wuhan) crashed out in their opening matches. When the dust settled, it would be Djokovic maintaining his perfect 29-0 record at the China Open.
  "I know today Novak is not my league, is a different level of me this year。" – Rafael Nadal, on the widening gap between the two.
  "He's a 14‑time Grand Slam winner, one of the best players in the history of the game. I can't put myself in a different league than him。" – Novak Djokovic, in response to Nadal. He would dispatch Nadal in two easy sets, extending his dominance to 7 of their last 8 matches.
  Fans also got a first look at Novak's youngest brother, Djordje, as the two paired up for doubles for the first time.
  "I figure that if I constantly talk about tennis, trying to improve their game, give them advices, that would maybe jeopardize our private relationship and brother relationship, which is truly what I want to have with them。" – Novak Djokovic on what he does to help his brothers. He and Djordje (20, ranked No. 1,504) lost to Sock/Pospisil in a second round match. Brother Marko, 24, has already quit tennis.
  On the women's side, Garbine Muguruza made her second final in two weeks, coming from behind in both sets to defeat Timea Baczinszky for her biggest title yet. Muguruza would celebrate her birthday and secure her WTA Finals spot in Beijing, with both finalists embracing the China experience.
  "My father used to call me mushroom. You know why? Because they look sometimes pretty, but inside, if you eat them, you're like dead。" – Garbine Muguruza, on her Chinese nickname of "mushroom" because of the similarity in pronunciation of her name and the fungus.
  "I love all your food. To be honest, I'm feeling super comfortable with it. I even eat sometimes soup for breakfast. This is kind of weird, but I like it。" – Timea Bacsinszky on her affinity for Chinese food. She also talked about getting out and seeing the sights and learning a bit of Chinese. "I'm interested because it's something different. We're human beings. We need all to try to live together and try to understand each other because we're a little different, but in the end we're the same. We have one head, two hands, two feet."(by James Pham)