Buying China Open Official Souvenirs, Winning Gifts Signed by Nadal
——Professor trained teen open class project
2015-10-30 16:49:11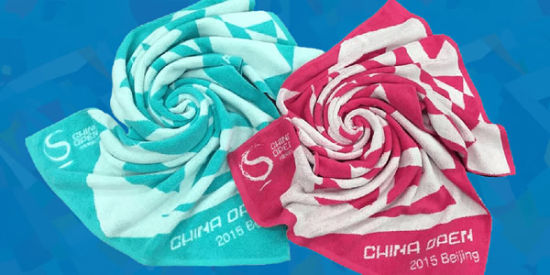 Almost all the top tennis events have their own distinctive official souvenirs; the kangaroo plush toys of the Australian Open, the trophy key-rings of the French Open, the umbrellas of the Wimbledon Championships, the sport caps of the U.S. Open, and so does the China Open. Various kinds of souvenirs have been released each year since its launch in 2004. This year the official souvenir was specially designed over a half year period by famous designers. , Combining the triple inspirations of tennis, tournament and venue, it presents a brand new lifestyle of tennis fashion for audiences.
  China Open player towels are always most popular among fans. This year, the design of the player towels was inspired by the collage of geometric patterns of the Diamond Court, and produced by the famous luxury brand Abyss. With high quality and perfect design, they are greatly welcomed by fans. Moreover, during the 2015 China Open, star players like Nadal, Ivanovic and Karlovic all visited the souvenir shop to sign for fans.
  As we approach the year's end, China Open souvenirs are undoubtedly the most meaningful and useful gifts for families and friends to give to tennis fans. The China Open has designed a whole new packaging for player towels with high-end silver plated boxes to meet fans' different requirements. There are also several functional souvenirs like China Open cups and cellphone shells for sale.
  In order to reward fans' support, the China Open is providing notebooks signed by Nadal, Ivanovic and Karlovic as bonus gifts for fans who buy souvenirs valued over 1000 yuan and signed T-shirts for those who buy souvenirs valued over 2000 yuan. Signed gifts are limited. Fans should make the time to purchase their preferred souvenirs.
  China Open Official E-shop: www.4007076666.com
  China Open Hot Line: 4007076666