China Open, the most-viewed WTA tournament of the 2015 season
——Professor trained teen open class project
2015-12-17 14:33:56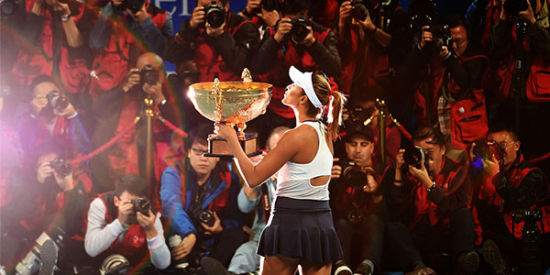 • Total broadcast viewership for 2015 season up 25% year-on-year
• Online broadcast viewership up 44% compared to 2014
• Unprecedented depth of field as 12 different players win the 22 top events in 2015
St Petersburg, Florida – The Women's Tennis Association (WTA) today announced key media metrics from the 2015 end-of-season global audience report, by SMG Insight, which indicate that interest in women's tennis is at an all-time high.
Excitement around the competitive 2015 WTA season stimulated interest in broadcast coverage worldwide, boosting overall viewership* by 25% year-on-year, with 395 million cumulative viewers in 2015 versus 316 million in 2014. This is the second consecutive year that the WTA has seen a substantial increase in audience; broadcast viewership rose by 23% in 2014.
Digital viewership** for the 2015 season was up 44% year-on-year, with 44.6 million viewers watching women's tennis through online broadcast platforms in 2015, compared to 31 million in 2014.
The two most-viewed tournaments of the 2015 season were held in Asia, with tournaments in the US and Canada completing the top five. The China Open in Beijing, won by 22-year-old Spanish sensation Garbiñe Muguruza, drew a global viewership of 34.64 million, while the season-ending BNP Paribas WTA Finals Singapore presented by SC Global – where Poland's Agnieszka Radwańska won her biggest career title to date – drew 32.49 million.
Top five tournaments according to global broadcast viewership in 2015:
1) China Open, Beijing (34.64 million)
2) BNP Paribas WTA Finals Singapore (32.49 million)
3) Rogers Cup presented by National Bank, Toronto (29.70 million)
4) Miami Open presented by Itau (29.37 million)
5) BNP Paribas Open, Indian Wells (26.81 million)
The 2015 broadcast viewership growth was matched by increases across the WTA's own media platforms, with the number of unique users and number of overall visits to the official WTA website up 14% year-on-year and 15% year-on-year respectively. The number of fans following official WTA and player social media pages, meanwhile, was up 16% year-on-year in 2015 and reached 120 million cumulatively, while the number of views of video content across the official WTA website and WTA social media pages hit 48 million in 2015.
Several reasons contribute to the all-time peak of interest in women's tennis. WTA coverage is being seen by more TV viewers, with the number of households reached by WTA programming*** hitting 954.4 million in 2015, a 38% increase on 2014. The greater number of ways fans can consume WTA content, meanwhile, is adding viewers who consume sport online, or looking to supplement TV coverage with extra content online.
The WTA also remains hugely competitive on the court and is therefore a strong and attractive sporting spectacle for both tennis fans and sports fans more generally. The 21 Premier Tournaments and WTA Finals in Singapore were won by 12 different women in 2015, the same number as in 2014. So too is there a captivating new generation of players: six of the players in the current WTA top 20 are aged 25 or under, and of the 12 women who won tournaments in 2015, four are aged 25 or under.
Additionally, the WTA has invested in a number of youth-orientated social media platforms to reach the fans of tomorrow, including Instagram, WeChat, IQIYI, Snapchat and Spotify. They provide unique content for younger fans hungry to follow WTA players on platforms native to them.
From 2017, when the extended partnership with Perform Group comes into full force, WTA Media will produce over 2,000 singles matches a year and increase news content by 40 per cent. By increasing the amount of content available to fans, the WTA can expect the strong rise in media engagement reported in 2015 to continue to rise in the future.
Steve Simon, WTA CEO, commented, "The continued rise in audiences show the WTA strategy to grow the product and reach more fans is working, and the number of stars coming up through the sport will continue to excite interest. The depth of the playing field in our sport is unprecedented right now, and the competition is outstanding. We have the platform to continue growth in the future."